Webster Alumnus Serves as Deputy Commander of the Elite Old Guard Army Regiment
Jul. 13, 2017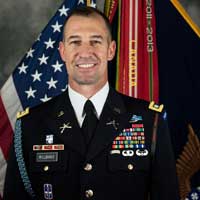 Several times a day, a horse-drawn wagon carrying the remains of a fallen soldier and escorted by an honor guard will pass by a group of tourists Arlington National Cemetery as it heads to a final resting place. Often, the tourists will stop talking, remove their hats and lower their heads, as the sound of the horses' hoofs, the synchronized sound of the honor guards' shoes and the wagon wheels hitting pavement echoes through the park.
The soldiers escorting the wagon are members of "The Old Guard," one of the nation's oldest and most prestigious military units. The Army infantry regiment, created in 1784, serves as an elite unit that is used during military funerals (226 of them in January alone), guards the Tomb of the Unknown Soldier, serves as security and escorts during official visits by international dignitaries, and performs numerous other duties at high-profile events.
The unit is led by Webster alumnus Lt. Col. R. Tyler Willbanks. Willbanks, who graduated with a master's degree in international relations this spring, serves as the deputy regimental commander of The Old Guard, also known as the Third U.S. Infantry Regiment. He was named deputy commander of The Old Guard last year.
The Old Guard is most well-known to the public as the elite honor guards who help lay veterans to rest in Arlington National Cemetery, escort international dignitaries during official visits, march in parades across the national, perform wreath ceremonies at national monuments across the country, and serve as honor guards during Presidential inaugurations, state funerals, swearing in ceremonies, and during NFL, NBA, MLB and NHL games.
The unit also serves security roles. For example, their medics were the first to arrive on scene when the Pentagon was attacked during 9-11.Their military police K-9 team works closely with law enforcement and other security agencies in the Washington D.C. area. They also have units that work with other military units in Afghanistan and other countries.
Most recently, Willbanks organized The Old Guard's presence at President Donald Trump's inauguration, a duty that is much more complex than most observers realize. "Inauguration day consisted of no less than 78 military, security and law enforcement entities working in concert with hundreds of contractors, and federal, state and city employees to ensure the event was well synchronized," he said. A slight shift in the timeline for the Parks Police, for example, may have a ripple effect on the timing and location of bus parking for the military, which affects the city's trash removal, and then start to affect other parts of the ceremony he said.
"The complexities of an operation of this scale creates constraints most of the public will never see, nor appreciate," he said. "If the public recognizes these complexities, it's usually because something is going wrong."
Willibanks previously served on the inauguration of President George W. Bush and also responded to the 9-11 attacks as a member of The Old Guard.
Willbanks entered the armed forces shortly after graduating from high school and has served in the Army for 27 years. His first full-time assignment was with The Old Guard's Presidential Salute Gun Battery from 1989 – 1991. He served two tours in South Korea, in Iraq for 16 months in Mosul and Baghdad as a company commander, and in Afghanistan as a senior combat advisor in the Faryab Province. In Saudi Arabia, he was assigned with the Ministry of National Guard as a senior military advisor. 
"During my tour in Saudi Arabia, Webster's International Relations program gave me a solid theoretical foundation of global politics, to which I was able to apply to my daily duties and responsibilities as a military professional," Willbanks said. "Each day, I engaged my military and civilian counterparts during this very difficult time, armed with knowledge and insight I gained directly from the course material and the interactions with my classmates across the globe."
Willbanks started his master's at Luke Air Force Base in Arizona and was able to take advantage of Webster's robust online programs and finish the degree while he moved from assignment to assignment around the world.
Besides pursuing a master's at Webster, he has a bachelor's degree from New Mexico State University. His full biography can be found online at http://www.oldguard.mdw.army.mil/regiment/command-group/dco-bio. 
tags:  alumni, college of arts and sciences, home page, advancement, online learning, military, webster today,
News by Topic
Tag Categories
News by Topic
Tag Categories