Workforce Recruitment Program for Students, Recent Grads with Disabilities
Sep. 6, 2017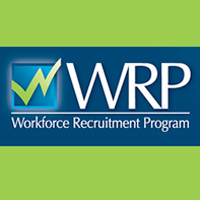 The Workforce Recruitment Program (wrp.gov) connects federal employers with college students and recent grads with disabilities eager to prove their abilities in the workplace through internships or permanent jobs. Webster University will participate in the 2017-2018 WRP and we are recruiting eligible candidates. Candidates from all majors and degree programs are eligible and may range from college freshmen to recently-graduated students.  

The goal of the program is to increase the representation of persons with disabilities, especially severe disabilities, in the federal workforce. During the Fall 2017 semester, federal recruiters will conduct phone interviews with eligible candidates who complete the application process. During phone interviews, the recruiter will ask about candidates' skills and potential career paths. Information from candidate interviews is compiled in a searchable database available to federal Human Resources Specialists, Equal Employment Opportunity Specialists, and other hiring officials in federal agencies.

To qualify, candidates must meet all three of the following criteria:      
Be a United States citizen.
Be a current, full-time undergraduate or graduate student. Candidates who fall under the following exceptions may still be eligible:

Taking a reduced course load due to disability.
Taking a reduced course load due to upcoming graduation.
Graduated from Webster April 2016 or after. Candidates who graduated prior to April 2016 are NOT eligible to participate.

Have an intellectual disability, psychiatric disability, or severe physical disability which makes you eligible to obtain a Schedule A letter from a licensed medical professional, a licensed rehab professional, or any federal/state agency or entity that issues or provides disability benefits.
Candidates who meet all three of the above qualifications and who are interested in interviewing for inclusion in the 2018 WRP database, may register at wrp.gov/registerstudent. Registration opened on Aug. 28 and closes Wednesday, Oct.11, 2017.  
 
More information is available on the Career Planning & Development Center website. For additional questions, contact Marcie Schumert in the Career Planning & Development Center (314-246-7961 or  marciaschumert39@webster.edu) or Cindy Yamnitz in the Academic Resource Center (314-246-4245, cynthiayamnitz36@webster.edu).  
tags:  alumni, webster life, webster today, academic resource center, career planning, students, disabilities,
News by Topic
Tag Categories
News by Topic
Tag Categories