Call for Nominations: Honorary Degree Recipient and Webster University 100th Commencement Speaker
Aug. 17, 2018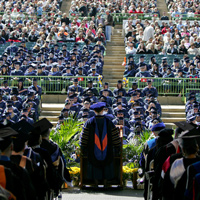 The annual commencement at The Muny in St. Louis is the largest gathering of graduates and their families from Webster University campus locations throughout the world.
The entire Webster community looks forward to the 100th commencement ceremony, which will take place Saturday, May 11, 2019, at The Muny in Forest Park in St. Louis.
An important part of commencement is the awarding of an honorary degree recipient who will be our commencement speaker. The 2019 commencement will be an important aspect of Webster University's centennial celebration.
As in the past, the Honorary Degree Committee is seeking suggestions for honorary degree recipients. Nominations will only be accepted through the online form located here.
The honorary doctorate degree recognizes academic accomplishments of individuals, including alumni, as well as those who may not have had any previous association with the University.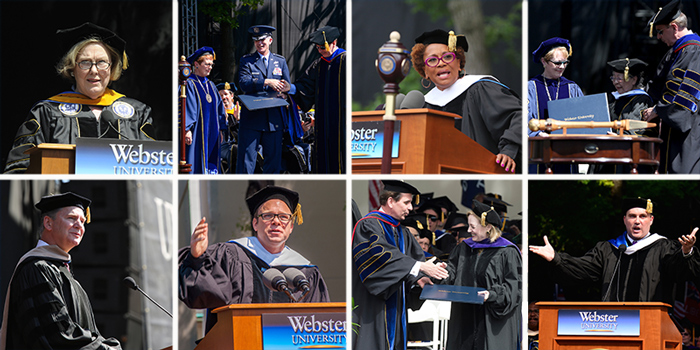 Anyone Can Nominate the Speaker
Past recipients have been nominated by students, alumni, faculty, staff or other community members.
Speakers have included former President George H. W. Bush, Simon Wiesenthal, Bob Costas, Patricia McKissack (MA 1975 graduate of Webster), Lt. Col. Greg Gadson (MA 2001 graduate of Webster), congresswoman and former Speaker of the House Nancy Pelosi, U.S. Ambassador to Egypt Anne W. Patterson, two-time Tony award-winning Webster alum Norbert Leo Butz, Hiroshima atomic bomb survivor Koko Tonimoto Kondo, Jenifer Lewis, St. Louis-born actress, singer, community activist, and Webster University alumna (BA Theatre Arts, '79), Jim Weddle, managing partner of Edward Jones Investments, and General Paul Selva, 10th Vice Chairman of the Joint Chiefs of Staff and second highest ranking officer in the United States Military, and Mr. Michael P. McMillan, President and CEO of the Urban League of Metropolitan St. Louis.
Nomination Areas
The Honorary Degree Committee is currently seeking nominations in the following three areas:
Individuals who have built cross-cultural connections
Individuals in this category will have distinguished themselves by building cross-cultural understanding, acceptance, and knowledge in one or more areas, including the arts, social sciences, humanities, communications, education, and business.
Individuals who are leaders in sustainability
Individuals in this area will have distinguished themselves through leadership in sustainability in its broadest sense–namely, using the earth's resources in ways that are environmentally, socially, and economically responsible.
Individuals who have pioneered innovative uses of technology
Individuals in this category will have distinguished themselves through innovative uses of technology to produce positive and dramatic benefits locally, regionally or globally.
How to Nominate To nominate the 2019 honorary degree recipient, simply fill out the online nomination form, where you can provide the name of your nominees and the reason you believe these individuals merit an honorary degree from Webster University.
Confidentiality is Crucial to the Nomination Process
Please note that all nominations must be confidential, without notice to the nominee, in order to protect privacy and respect the nominee. This applies until the process has concluded. Official notification of the University's wish to confer an honorary degree upon an individual is made by the President on behalf of the Honorary Degree Advisory Committee and the Board of Trustees.
Please submit your nominations by the extended deadline of Friday, Sept. 28, 2018.
tags:  alumni, employee news, extended campus, commencement, faculty, global, home page, president, provost, webster life, webster today,
News by Topic
Tag Categories
News by Topic
Tag Categories