'Anyone Can Do It': Air Force officer reflects on path to Webster master's degree
Jan. 22, 2018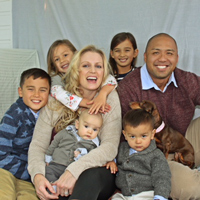 Air Force officer Julie Yanagihara earned her MA in Management and Leadership at Webster University while juggling her military career and raising a young family.
Along the way her work colleagues, Webster faculty and advisors, and her own ingenuity helped her navigate the degree amid military relocation from Texas to Idaho and the births of her fourth and fifth children, using a mix of both online and in-classroom courses.
"There is no perfect time - so don't keep waiting because you are afraid of failure," she says to future students.
Below is her story, edited for style, which she shared with faculty and the Webster University community, hoping to inspire other current and future students that they, too, can achieve more, and Webster can help.
'Take hold of your wishful thinking and get that degree'
This is my story as a graduate student, a mom and wife, and an Air Force nurse. I hope it reaches potential students, inspiring them to take hold of their wishful thinking and just get that degree they are afraid of. Hopefully, it reaches a professor and they realize how valuable they are and understand they have the potential to make or break a student. And hopefully, it gets to a current student that just needs to know that they are not the only one that is uncomfortable. This is difficult but we can do it. Life will push you outside you comfort zone regardless – so get uncomfortable and keep pushing through that degree program.
My message to you is that there is no perfect time or location to do anything - so just start living life! There is no perfect time to have a baby, get married, or go back to school whether you are assigned at Randolph AFB, Texas, or Mountain Home, Idaho. Stop being afraid of failure and start experiencing what you are capable of. While growing up on a ranch in a small town, my four siblings and I worked very hard to take care of each other. Most of the time Mom was single and it was just us to help her with the ranch work. I attribute much of my successes in life to the work ethic I learned while growing up like this. Survival instinct kicks in when some of your chores are bigger than you!
Today, I have five beautiful children and husband, an incredible Air Force career as a nurse, and am about two seconds from getting that Master's degree in my hand. Now, five children was not a religious path for me – I just really love babies!  From having children, to getting my master's degree – none of it wasn't without constantly telling myself that it was all going to work out.
'I wanted to do more...'
I met my husband in college while getting my bachelor's degree in nursing. After five years as a civilian nurse and two beautiful kids later – we made it official and got married in our own, most affordable way possible. After that, I wanted to do something meaningful, amazing, and serve my country - so I joined the Air Force.
The transition was initially a huge financial burden and we almost had to file for bankruptcy. We crawled through that though as we welcomed our third child into the world.
Being in the Air Force was challenging and rewarding, but I wanted to do more. This meant looking towards the future and really setting long term and half point goals. However, I had waited two years for the Air Force to have a nurse opening for an Army-sponsored program and it just wasn't happening. Instead of continuing the wait I just decided to start my master's degree on my own. During a formal training, I had met another Air Force officer who was in the middle of his degree program and he mentioned Webster University. Even better – he was getting a degree in Leadership and Management!
'Perfect 
– both for nursing and my Air Force career'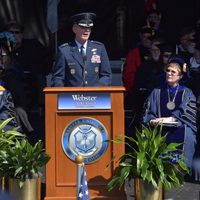 This was perfect – both for nursing and my career as an Air Force officer. It was exactly the answer I was looking for.
Talking with Webster University was a huge relief because I was worried about trying to figure everything out by myself. My academic advisor at Randolph Air Force Base was proactive and extremely helpful. The whole way through, we discussed course sequencing and evaluated course options for electives that would complement my studies and enhance my understanding of emerging fields such as cybersecurity. I was really looking for the "no hassle" and I got it!
Now, the hard part. I had to face my insecurities and just do this master's program, despite my fears of failure. One class at a time, I got through it. I remember being pregnant with my fourth child and my due date was the same week as the final week of class. This was the first time I asked for an inch from my professor and he gave me an inch. The last paper got written with a small time extension and I went into labor that same night.
I then made the mistake of picking up a class afterwards when I had a newborn. Graduate school and newborns are not too compatible. In one month, we moved half our belongings out of our home for showings, sold the house, moved into an apartment with our two dogs, and prepared our move from Texas to Idaho.
How Webster professors, advisors helped in a pinch
The last night I had to finish my last paper was before the movers returned to pack up my PC the following morning. I had no choice but to turn in my best draft early. There is nothing more annoying than trying to write a paper while listening to the distinct rip of packing tape as boxes are filled all day. Meanwhile, I was multitasking the oversight of packing, oversight of protecting my kids underfoot of movers, and trying to make sure my new little baby doesn't get woken up.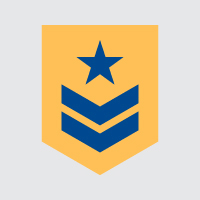 That same day I had to ask my professor again for an inch and he gave it to me. He came in on his day off, after hours, and proctored my test at the base education center.
As we moved again to our new home in Idaho, I knew we would not yet have an address to ship a textbook or internet hooked up, so this was the first time I took a break from school. Yet, my Randolph AFB academic advisor stayed with me, and I picked it up again a few months later though and eventually, I was ready for that one frightening capstone course where I would have to write my thesis.
Would I have to take off work just to pass this class? Would I be expected to write a paper that was going to change the world? I thought there was no way I could possibly do this – but I did. Unfortunately, it was during a time when we were extremely undermanned and my responsibilities at work had more than doubled. I was pregnant with our fifth child, under slept, and burnout.
With understaffing, we hadn't had a vacation day in over a year and worked everything from four- to 24-hour shifts just to keep the place open. I was filling two jobs at the same time as a Flight Commander and nurse. The only way I was able to finish my thesis was by convincing another nurse to let me pull a 36 hour shift so I would have three days off in a row to finish that paper! I had another class to follow and unfortunately again, my baby's due date was the same week as my class was supposed to end.
(In case you don't know, it takes a lot of focus to be in labor, especially in that first part when you are not sure if it's real labor. Do you sleep in preparation for birth or do you finish your homework? What if it's not labor and I'm pregnant for another week?!)
Again, I had to ask the professor for an inch and he gave it to me. I went into labor and finished my assignments later that week before grades were due for him to turn in. I had learned my lesson though and took a break from school to bond with my new baby.
So, all I had to ask for was these three inches and it was given to me. We have moved twice and had two babies during this grad program. I took two terms off during the last two years and have this last elective left.
'If I can do this, anyone can'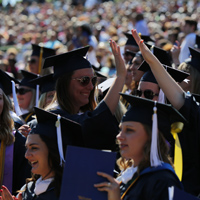 My mother had once told me during my first year as an undergraduate, "You know, it's okay if you want to stand on your front porch, barefoot and pregnant, and a baby on your hip." Maybe she was worried I was going to school for the wrong reasons? Maybe she was worried my success would get in the way of my family?
Well Mom, I have three little kids running around and one baby on each hip. I stand on my front porch in my combat boots. My kids understand that hard work pays off and put simply, sometimes we have to do things we really don't want to do – like homework! I want them to be proud of me and I want to set a good example for them.
When someone asks "How do I do it?" I remind myself how indebted I am to all the people who help shape me into who I am. Mom taught me how to work hard. My husband and children think I am invincible and constantly cheer me on. Most importantly, every person along the way that has believed in me and said "You got this!"
If I can do this, anyone can do it. Don't be afraid to ask for an inch if it's an inch between you and success. There is no perfect time - so don't keep waiting because you are afraid of failure. Surround yourself with people that believe you can do it. My husband believes in me probably more than I do. Yes, it has been hard but success is earned and you have to keep pushing forward.
Thank you, Webster University faculty and staff! Good luck grad students - you got this!
tags:  academics, alumni, extended campus, global, school of business and technology, home page, webster life, military, students, webster today,
News by Topic
Tag Categories
News by Topic
Tag Categories