Snapshots: Webster Alumni Welcomed, Celebrated at Reunion Weekend
Oct. 17, 2018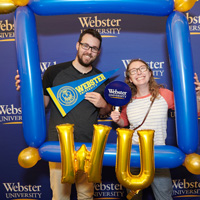 More than 250 alumni, faculty, staff and friends visited the Webster University main campus Sept. 28 and 29 for opportunities to reconnect and reunite at Reunion Weekend. The popular, annual event featured reflections on the past and progress toward the future.
Friday, Sept. 28
Friday evening boasted a variety of events, including a Welcome reception, book signings by alumni authors, and open house of the revitalized Sverdrup Hall. The Class of 1968, celebrating their 50th anniversary as graduates of Webster, enjoyed a special dinner with Webster University President Elizabeth (Beth) J. Stroble. Stroble led a lively discussion among the alumni, who recounted stories of influential professors, meaningful friendships, and the spirit of the University.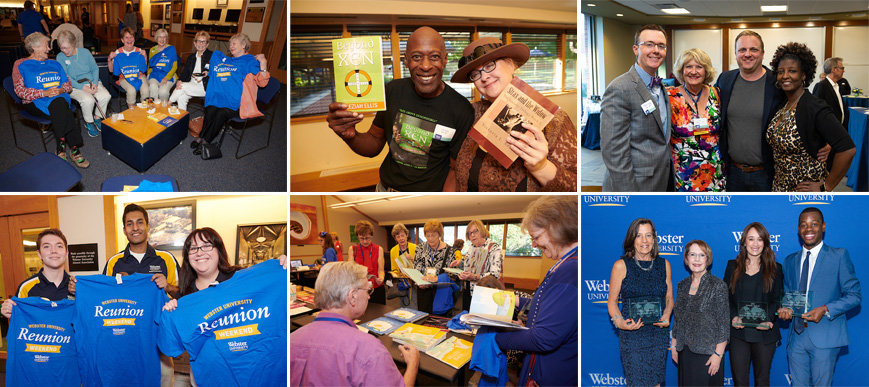 Saturday, Sept. 29
Saturday's Reunion festivities spanned the entire day and into the night! Many alumni who graduated 50 years ago, or earlier, attended the Golden Circle Luncheon, where the Class of 1968 was inducted into the Golden Circle, signifying their long-standing ties to Webster. President Stroble gave each attendee from the 1968 honor class a special pin to represent their place among this special group of graduates. In addition, honor classes from 1958 and 1963 were recognized.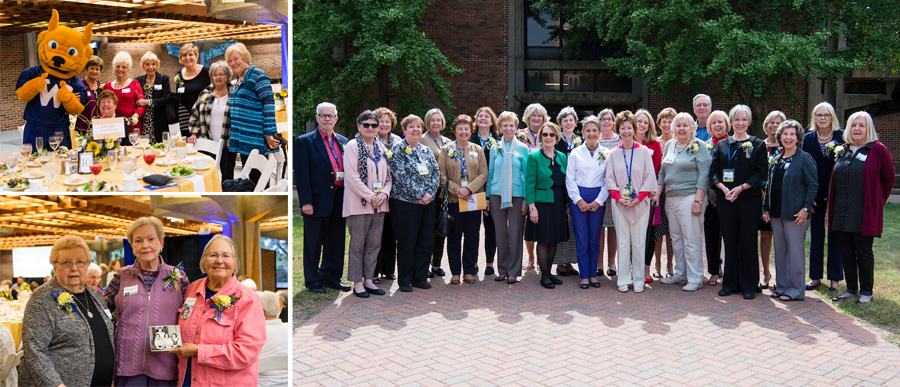 The Webster University Young Alumni Chapter celebrated all graduates, including honor classes ending in a "3" or "8," at the Gorlok Brunch. Alumni Association President Vanessa Davis, MA '04, DMGT '15, recognized Wakeel and Loren Rahman for their dedication to Webster and its global network of alumni. Wakeel, leader of the Young Alumni Chapter, accepted the gift from the Alumni Association on his wife's behalf.
Saturday afternoon featured Lightning Talks, a series of short lectures led by alumni on a variety of topics. Once again GenieCast broadcasted the event live so speakers could join in and alums from around the world could participate virtually. The program was also streamed via Facebook Live.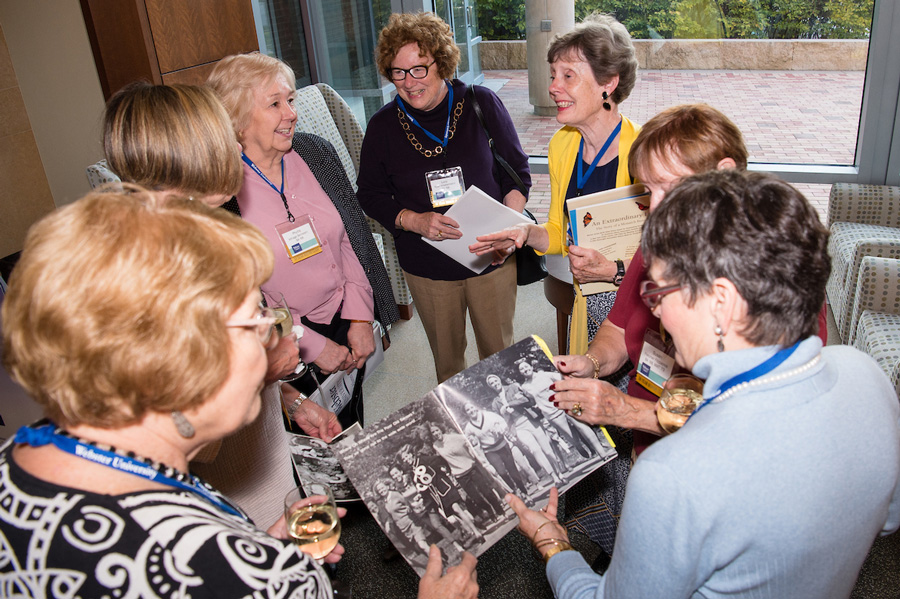 The University recognized four incredible alumni at the Alumni Awards Reception held Saturday night. This impressive group of Webster graduates were recognized for their dedication to the University and impact on the world. Three recipients were present at the ceremony and received their awards from Provost Julian Schuster and Alumni President Vanessa Davis while one awardee joined in virtually. The 2018 Alumni Award recipients are:
Joan Marie Godoy Liere, MA '12 - Loretto Award
Eve Coulson, BA '73 - Mary Elizabeth Newell Loyalty Award
Christopher Whitmore, BA '14 – Young Alumni Award
Dr. Manal Fakhoury, MBA '12 - Distinguished Alumni Award Learn more about the alumni award winners or nominate a deserving alum.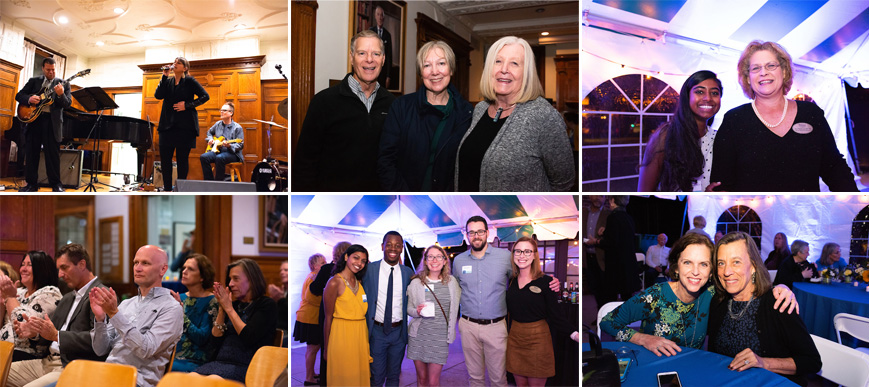 The weekend wrapped up with an intimate concert performance by Erin Bode BA '03 at the Thompson Music Building Recital Hall. Bode shared that the last time she had sung on the Recital Hall stage was her senior year at Webster.
The Office of Advancement and Alumni Association are grateful to everyone who celebrated and made the weekend a success.
tags:  alumni, webster life, webster today, reunion weekend, home page, advancement,
News by Topic
Tag Categories
News by Topic
Tag Categories