Webster School of Education Alumna Named Teacher of the Year
Apr. 17, 2019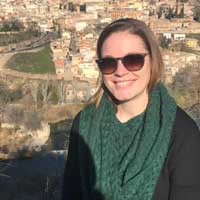 ST. LOUIS - Webster University School of Education alumna Cheryl Ogolin was named teacher of the year for the Mehlville School District, it was announced this month. Ogolin, an English language arts teacher at Mehlville Senior High School, previously was named "teacher of the year" at Mehlville High.
"It was a surprise to be selected. A parade of nearly a dozen people came into my room while my juniors were taking a timed ACT practice test," Ogolin said. "It's a great honor to receive this award, especially because our district is so big. I've always loved teaching and feel like I make a positive impact, so I'm proud that my efforts and work were recognized."
That surprise announcement was captured on video.
According to an announcement from the school district, "Miss Ogolin balances rigor and interest in the classroom. She constantly develops fresh lessons that both challenge and interest students. Not confining herself to simply the classroom walls, Miss Ogolin seeks learning opportunities outside of school. She brought her love of travel to MHS: taking kids on trips during summer and spring break, providing an opportunity our students had never experienced. Miss Ogolin's enthusiasm for learning is contagious with both students and colleagues."
Ogolin was one of 20 teachers nominated for the district honors. In order to be selected, she had to submit her resume, three letters of recommendation and write a few essays. In her essays, she wrote about her project-based learning unit, where she challenges students to formulate solutions for problems they identified within the school and develop prototypes for how to improve conditions. She also wrote about a class she leads in which students are asked to research any post-secondary options of consideration to them: college, military, workforce, or trade school. In this course, she regularly invites community members from various career fields into the classroom so students can ask questions about the job, job training, or education involved.
Ogolin said she prides herself in building strong rapport and mutual respect with her students and always letting them know that she cares.
"From the materials, we learn to the assignments I give to the amount of time it takes me to grade their essays, their potential success grounds my teaching," Ogolin said. "As often as I can, I incorporate elements of social justice and examine broader issues beyond the content of the texts we read."
Her teaching is not contained to the classroom. She also leads students on international education tours. In the past decade, she has taken students to Rome, the cliffs of Scotland, the rainforests of Costa Rica, and Spain. 
Ogolin earned her bachelor's in education in 2002 and first taught at Bayless School District in 2003. She was hired by Mehlville in 2011. She said she often tells people about what a great experience she had at Webster University.
"Go Gorloks," she added.
tags:  alumni, home page, school of education, webster today,
News by Topic
Tag Categories
News by Topic
Tag Categories