Webster Presence Strong at Union Avenue Opera Summer Season
Jul. 23, 2019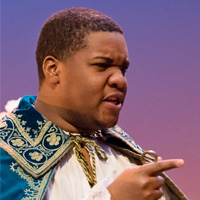 The Department of Music is represented throughout the Union Avenue Opera (UAO) summer 2019 season, with current students, alumni, and adjunct faculty on stage, working on staff, and performing in the orchestra.
Union Avenue Opera provides professional opportunities for gifted, emerging artists and offers vibrant and affordable opera experiences in original languages to audiences that reflect the breadth and diversity of the St. Louis region.
The season continues with two more performances of La Bohème on Aug. 2 and Aug. 3; and with the regional premiere of Glory Denied Aug. 16, 17, 23, and 24.


Union Avenue Opera's 25th anniversary is led by Scott Schoonover, who has for several years conducted the annual Department of Music opera scenes in January.
Alumni performing with the company in Candide and in La Bohème include Danielle Feinstein (BM '17), Sophie Shugart (BM '19), Dale Obermark (MM '19), and Randell McGee (BM '16).
Current voice majors Madeleine Buckley and Jamison McKeehan perform in the second opera of the season, La Bohème.
Collaborative pianist Nancy Mayo serves Union Avenue Opera as rehearsal pianist.  
Renowned soprano Christine Brewer, visiting professor of Music, provided an hilarious star turn as the Old Lady in Candide, the first opera of the season.
Union Avenue Opera's orchestra includes adjunct music faculty members Robert Souza and Jeanine York-Garesché.
Glen Bauer, professor and director of Music History & Literature, provides an opening night lecture for each of the three operas.

"We tell a good story, and back up with actions, this idea that our students work and perform and learn side-by-side with faculty," says Jeffrey Carter, chair of the Department of Music. "Every summer we find our students engaged in professional houses, both on- and off-stage, finding experiential application of the real things they are learning in the Department of Music. UAO has become an important partner for us. Our students are competitive in UAO's Crescendo program for young artists, and through that program find their way to the big stage too. We are grateful for this continued camaraderie with Scott Schoonover and the good folks at UAO."
About Webster's Vocal Performance Program
The vocal performance program at Webster University includes intensive applied lesson instruction and coursework in literature, pedagogy, and diction, in addition to weekly coachings and master classes. The program is led by Martha J. Hart. Degree options include the Bachelor of Music in Performance and the Master of Music in Performance. 
tags:  alumni, college of fine arts, webster life, webster today, department of music, community engagement, students, faculty,
News by Topic
Tag Categories
News by Topic
Tag Categories