Interracial Gay Couple Finds Love and Success after Webster
Aug. 7, 2020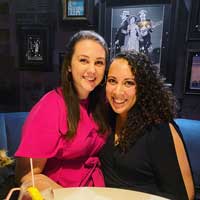 CHICAGO - When Webster alumni Abigail Pfeiffer and Dominique Nadeau met each other the fall semester of their sophomore year, they never thought that they would be spending the rest of their lives together, but now the two are happily engaged. Pfeiffer, who majored in biology, and Nadeau, who majored in theatre studies and dramaturgy, have not only made successful careers for themselves after graduation, but also lives filled with love.
It was by chance that Nadeau and Pfeiffer even met in the first place. They both transferred to Webster their sophomore year from different schools. Nadeau transferred from College of DuPage in Chicago, after taking a year off to gain professional experience and Pfeiffer transferred from Mercyhurst University in Pennsylvania.
"I was nervous because my roommate freshman year and I didn't get along," Pfeiffer said. "When I first found out that Dominique was my roommate, I stalked her on Facebook. I saw that she went to a pride parade with her friends and that made me feel comfortable coming out to her when I first met her."
"I don't remember my first encounter with people very often, but that one I remember like it was yesterday," Nadeau recalled. "I was moving in all my boxes when she came home from volleyball practice. I was so excited to meet her, I remember saying 'I would hug you right now but I'm super gross,' and she laughed and responded with the same. From that very moment, I knew we were going to be great friends, but I didn't know that we would eventually fall in love."
"I remember the day I met her in person her so clearly. Her radiating smile and her bubbly personality were enticing, and I knew right then and there that she would become a special part of my life. Later that day we were knocking on our neighbor's doors to try to make friends and I knew she was my kind of crazy," Pfeiffer continued.
Pfeiffer said that she attended a Christian high school in Springfield, Illinois. "I didn't feel accepted or comfortable coming out as gay because of my surroundings," she said. "My religion classes would talk about how being gay is a sin, and although I didn't believe them, it still filled me with guilt and made me question if who I was wasn't okay."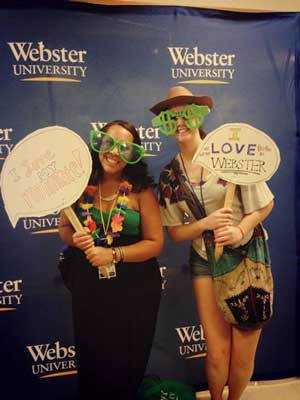 But she said Webster changed all that. "When I came to Webster, there was so much diversity and so many LGBTQ students who were out and proud, and stuck up for what they believed in. I learned and grew so much as a person while I was at Webster and finally felt comfortable with who I was. I chose Webster because of its diversity."
Nadeau said she also chose Webster because of its diversity and inclusion. "When I walked into the University Center for the first time and saw flags from all over the world proudly hanging, I knew I wanted to be there," she said. "I have always valued learning about other cultures, which is why I chose to study abroad for two semesters. I went to Athens, Greece for one semester then I went to London, England for another. My year abroad taught me so much. I am incredibly thankful for that opportunity and it greatly impacted my life for the better."
Pfeiffer now works as an ultrasound tech at Northwestern Memorial Hospital in Chicago and she said that Webster deserves a lot of the credit on how she got to where she is. "Webster gave me close friends and a great education. My teachers were amazing and were always very understanding. I was able to obtain all of my prerequisite courses that I needed in order to get into ultrasound school, and I got in very quickly. I wouldn't be working at Northwestern today without my BA in biology that I received from Webster."
Nadeau is currently a teacher at a Chicago public school, is working toward a Drama in Education degree, and runs a theatre program for youth every summer. "Webster taught me so much and helped me prepare for success. Gad Guterman, Head of the Theatre Studies and Dramaturgy Department, was my idol and I still look up to him today. I enjoyed being a part of the Webster Conservatory because I felt that the faculty truly did care and took the time to give you detailed feedback as well as the tools to grow."
And now their lives are growing again. The two are engaged and are planning a wedding. They are competing with other engaged couples to win a wedding giveaway through Innsbrook Resort. Voting opened Aug. 3 and closes Aug. 10.
The couple may not have grown into who they are today or found each other had it not been for Webster. So, they have advice for new students entering the University this fall:
"Webster created an open environment where I felt safe and accepted," Nadeau said. "Take the opportunity to try new things, learn more about yourself, and learn more about others."
Pfeiffer added on, "Webster really helps you grow and get out of your comfort zone. If you're lucky like me, maybe you'll be randomly paired with the love of your life too!"
tags:  alumni, college of arts and sciences, college of fine arts, home page, webster today,
News by Topic
Tag Categories
News by Topic
Tag Categories