Construction Update Dec 9 2016
Dec. 9, 2016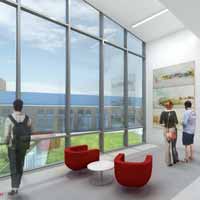 This is a regular update of the construction work for the Interdisciplinary Science Building (ISB) and the Parking Garage expansion on the home campus of Webster University in Webster Groves, Missouri:
Work on the roof if the ISB is beginning. Crews cut the deck for the parapet framing earlier this week. The frame and walls of the roof are being built now, with work continuing on that part of the building through Dec. 19. In other ISB updates:
The layout and framing of the walls for the new auditorium has started and is expected to be completed by Dec. 12
Wall framing is continuing on the third floor through Dec. 14 and on the fourth floor through Dec. 19.
Drywall is being installed on the first floor. That work is expected to continue through Dec. 16. Drywall on the second floor starts Dec. 15 and runs through the end of the year. On the third floor, it starts Dec. 20 through Jan. 2, and on the fourth floor its starts Dec. 23 and runs through Jan. 5.
The installation of ductwork and piping on the third floor is expected to continue through Dec. 16, and on the fourth floor through Dec. 26.
In Area A (east side of the building), piping continues to be installed through Dec. 23.
Grading of the first floor of Area A should last through Dec. 12. That will be followed by a concrete prep and pour.
Fireproofing material is scheduled to be sprayed in Area A through Dec. 19.
Over at the garage expansion project:
Precast erection crews continue to take advantage of the good (although cold) weather.  Workers are on track to complete the south half of the garage by Dec. 12.  Grouting and welding crews will continue there one week further.
The crane will move to the north half of the garage on Monday, 12/19 and to start pulling off the last bay of existing spandrel panels either that afternoon or the following morning. 
There will be some parking changes in the existing garage.  Starting Thursday, 12/15, the barricades along the east side of the existing garage will be relocated, causing the temporary loss of some parking on all floors for the next three weeks.
For more information about the on-campus construction, visit webster.edu/construction.
tags:  webster life, webster today, ISB,
News by Topic
Tag Categories
News by Topic
Tag Categories