Construction Update Aug 11 2016
Aug. 11, 2016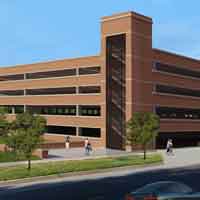 This is a regular update of the construction work for the Interdisciplinary Science Building (ISB) and the Parking Garage expansion on the home campus of Webster University in Webster Groves, Missouri:
About a dozen parking spaces on the west side of the parking garage (in front of the book store) will be temporarily dug up as construction crews relocate a sewer line as part of the Parking Garage Expansion project. The work is expected to begin in the next few days and last for about a week. The spaces are expected to be restored by Aug. 22.
On Aug. 16, 17 and 18, workers will be modifying outdoor lights in Parking Lot J and on the south end of the Visual Arts Studio. This work may require the temporary closure of a minimum number of parking spaces around those lights.
Other construction updates:
Crews have begun grading the former Parking Lot O for the expansion of the Parking Garage.
Starting Aug. 16, structural steel erection will begin to be installed at Level 0 (the lowest level) of the Interdisciplinary Science Building construction site. Trucks will haul in the steel and the tower crane will then erect steel into place, allowing iron workers to begin bolting and welding the structural steel together. Those who park in Lot K should be aware of an increase in truck traffic while the structural steel is being delivered and erected and should consider that there could be minor delays entering or exiting the lot. The erection of Level 0 structural steel is expected to be completed Aug. 25.
The removal of the stairs on the north side of the EAB is anticipated to be completed next week. Those stairs will be replaced by a new set by the time the ISB project is completed. In the interim, temporary stairs will be constructed to provide a means of egress at the north wing of the EAB (east side).
The placement of foundations at the lowest level (Level 0) of the ISB is scheduled for completion this week.
Waterproofing of the foundation at Level 0 is set to begin Aug. 15 and finish Aug. 23.
The downstream defender and related pavement work (which has caused a partial blockage of the stairs on the west side of the East Academic Building) is expected to be completed Aug. 15.  The replacement of landscaping in Rain Garden A will commence in September of 2016 during cooler temperatures.
For more information about the on-campus construction, visit webster.edu/construction.
tags:  college of arts and sciences, home page, school of business and technology, webster life, webster today, ISB,
News by Topic
Tag Categories
News by Topic
Tag Categories