Construction Update Aug 26 2016
Aug. 26, 2016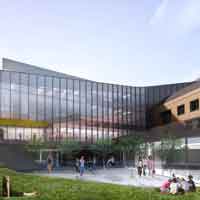 This is a regular update of the construction work for the Interdisciplinary Science Building (ISB) and the Parking Garage expansion on the home campus of Webster University in Webster Groves, Missouri:
The sidewalk that leads to the book store and the elevator entrance of the parking garage will be fully restored by next week, as crews complete the installation of a new storm water line as part of the garage expansion project. The storm water work will continue on the site of the former Parking Lot O through mid-September. Once all the new storm water pipes are installed, crews will begin piers drilling – the drilling of large shafts that will help anchor the building. The garage project is on schedule to have pre-cast walls installation start in mid-October.
At the site of the ISB, construction crews are preparing to pour concrete for Level 1 Slab on Metal Deck Area A (north wing) of the building.  That work is expected to start Sept. 1 and last through Sept. 5.  Those who park in Lot K should be prepared for minor delays entering and exiting the lot as concrete trucks arrive at the site.
In other ISB progress:
The steel erection continues at Level 0 (the lowest level of the building). It is expected to be completed by the end of the month.
The backfill of the Level 0 foundation will start on Aug. 26 and is expected to be completed by Sept. 2.  Crews also hope to complete the waterproofing of the Level 0 foundation today.
Three drilled piers need to be placed in the backfill area.  That work is expected to start Aug. 30 and finish the next day.
Work crews will install foundation walls along the Level 0 backfill area starting Sept. 7 and lasting through Sept. 12.
For more information about the on-campus construction, visit webster.edu/construction.
tags:  college of arts and sciences, webster life, webster today, ISB,
News by Topic
Tag Categories
News by Topic
Tag Categories