Construction Update - Rain Garden and Substation Work This Week
Jul. 27, 2016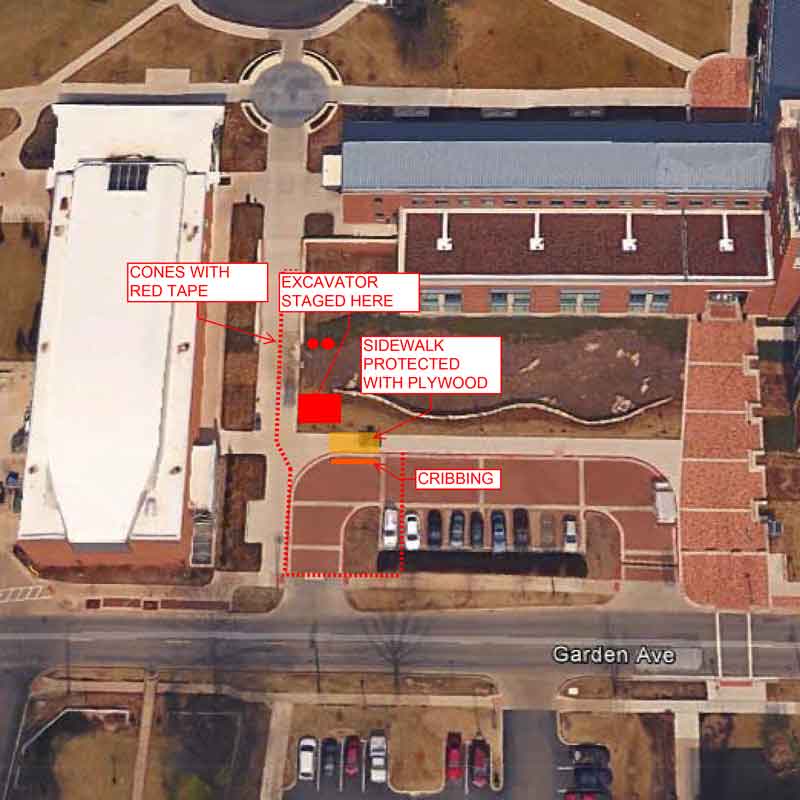 This is a regular update of the construction work for the Interdisciplinary Science Building (ISB) and the Parking Garage expansion on the home campus of Webster University in Webster Groves, Missouri:
The installation of the downstream defender in the East Academic Building (EAB) Rain Garden started today, a few days earlier than expected. It is expected to be completed by Aug. 5. A downstream defender is a filtration system that helps remove sediment from runoff water.
During this project, part of the stairs on the west side of the EAB will be obstructed, but will be useable. To get to those stairs from the Parking Garage, pedestrians will have to use the sidewalk along Garden Avenue, as the sidewalk in front of the EAB will be blocked. The parking spaces in front of the EAB are open and should be used by parents dropping off and picking up children from the Community Music School (right-click on the image and "open image in a new tab" to see a larger version).
This weekend, five buildings on campus will be switched over to the new substation. East and West halls, the Loretto-Hilton Center, the Community Music School and the Parking Garage will be connected to the substation. Those buildings will lose power on Saturday July 30th and are expected to be without power for most of the day. All employees who work in those buildings should unplug all computers and printers and remove all perishables from any refrigerators before heading home on Friday, July 29.
As part of the change, the Sverdrup Building also will lose power for about 30 minutes before 8 a.m. While the building will be open Saturday, any swipe locks in the building will not work that day. Anyone who needs access into a room that uses a swipe lock will need to contact Public Safety (314-968-7430) to have the door unlocked.
In other construction updates:
Drilled piers for the Interdisciplinary Science Building are scheduled for completion on Aug. 3.
The installation of the ISB's drain tiles is expected to be completed this week.
The removal of the stairs on the north side of the EAB has been rescheduled to begin Aug. 12 and finish Aug. 15. Those stairs will be replaced by a new set by the time the ISB project is completed. In the interim, temporary stairs will be constructed to provide a means of egress at the north wing of the EAB (east side).
The foundations at the lowest level (Level 0) of the ISB is being poured and is scheduled for completion on Aug. 12.
The clearing of the former Parking Lot O for the expansion of the Parking Garage is continuing.
For more information about the on-campus construction, visit webster.edu/construction.
tags:  college of arts and sciences, school of communications, webster life, webster today, ISB,
News by Topic
Tag Categories
News by Topic
Tag Categories