Construction Update July 8 2016
Jul. 8, 2016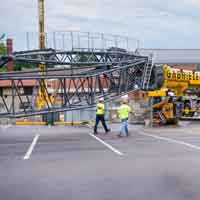 This is a regular update of the construction work for the Interdisciplinary Science Building (ISB) and the Parking Garage expansion on the home campus of Webster University in Webster Groves, Missouri:
The University is working with City of Webster Groves' officials to finalize all necessary approvals needed to start the first phase of work on the Parking Garage expansion, and it is anticipated that will happen today or early next week. Work could begin next week with the removal of asphalt from the former Parking Lot O. Equipment needed for the removal could arrive on campus in the next few days.
Work on the tower crane at the ISB's job site is expected to be completed Tuesday, July 12. As a reminder, Lot K is closed to all vehicular and pedestrian traffic as a safety precaution while the crane is being constructed. In addition, the Priest House, the Pearson House, and the north wing of the East Academic Building (EAB) will be evacuated on Saturday, July 9. For more information about the tower crane and a day-by-day outline of the work, see our previous announcement.
Rock breaking at Level 0 (the lowest level) and located at the north edge of the Interdisciplinary Science Building job site is scheduled for completion on July 13.
The ISB's earth retention system is scheduled for completion in the next few days.
Erection of the formwork for the walls of the ISB's auditorium is continuing and drilled piers are scheduled for completion on 7/26/16.
The installation of the ISB's drain tiles is expected to be completed July 15.
The removal of the stairs on the north side of the EAB is expected to be completed on Aug. 4. Those stairs will be replaced by a new set by the time the ISB project is completed. In the interim, temporary stairs will be constructed to provide a means of egress at the north wing of the EAB. (east side).
The foundations at the lowest level (Level 0) of the ISB will start to be poured on July 15 and scheduled for completion on Aug. 5.
A plumbing sump pump will be installed between July 13 and July 15.
A temporary irrigation system is being installed and is expected to be completed July 20.
For more information about the on-campus construction, visit webster.edu/construction.
tags:  college of arts and sciences, home page, webster life, webster today, ISB,
News by Topic
Tag Categories
News by Topic
Tag Categories