Construction Update June 24 2016
Jun. 24, 2016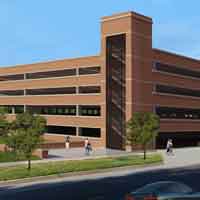 This is a regular update of the construction work for the Interdisciplinary Science Building and the Parking Garage expansion on the home campus of Webster University in Webster Groves, Missouri:
Heavy construction equipment will begin arriving next week for the parking garage expansion project. Work to tear up the asphalt of the former Parking Lot O could begin by the end of next week.
A live construction camera will be installed for the Parking Garage Project. The camera will go live some time during the summer. Once it starts broadcasting, a link to that feed will be shared in the construction updates.
The drilling of rock on the site of the Interdisciplinary Science Building (ISB) should be completed by the end of next week, which should reduce the amount of noise coming from that site.
Work on the earth retention system for the ISB finished this week.
Work on the drilled piers at the ISB site is expected to continue through July 14.
Drain tile installation has started on the ISB site and should continue through July 15.
The stairs on the north side of the East Academic Building that lead to the driveway between the EAB and Nerinx High School will be removed between July 15 and Aug. 4.
Work on erecting the Tower Crane is still expected to start July 7 and will cause the closure of Parking Lot K from July 7 through July 12, as well as the evacuation of the Pierson House, the Priest House and the north wing of the East Academic Building on July 9. See our previous announcement about the crane for the full details on how the tower crane will be erected.
For more information about the on-campus construction, visit webster.edu/construction.
tags:  college of arts and sciences, home page, webster life, webster today, ISB,
News by Topic
Tag Categories
News by Topic
Tag Categories