Construction Update June 7 2016
Jun. 7, 2016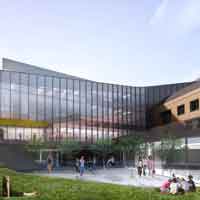 This is a regular update of the construction work for the Interdisciplinary Science Building and the Parking Garage expansion on the home campus of Webster University in Webster Groves, Missouri:
The stairs on the north side of the East Academic Building (EAB) that lead to the driveway between the EAB and Nerinx High School will be temporarily removed starting today (June 7). The work is needed in order to continue the piers drilling stage of the construction on the Interdisciplinary Science Building. The stairs will be reconstructed by the time the new Science Building is completed.
The piers drilling – the drilling of shafts to anchor the new science building – is expected to be completed July 14.
Excavation will wrap up on June 17, and the earth retention system will be completed June 15. Storm sewer work along the East side of EAB will finish June 8.
Work on building the foundation for the tower crane starts today (June 7) and is expected to be completed June 21. Work on erecting the tower crane is scheduled to being June 23 and will continue through June 26. During this phase, Lot K could be impacted as work crews need a space to piece together parts of the crane and then hoist it into place.
Laclede Gas will reroute the main gas line along Garden Avenue. The work starts today and is expected to last until June 22. A new gas line will be installed along Garden in the fall.
For more updates about the on-campus construction, visit http://www.webster.edu/construction.  
tags:  home page, webster life, webster today, ISB,
News by Topic
Tag Categories
News by Topic
Tag Categories