Construction Update Nov. 10 2016
Nov. 10, 2016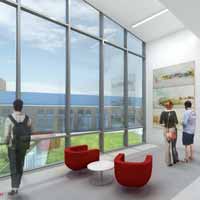 This is a regular update of the construction work for the Interdisciplinary Science Building (ISB) and the Parking Garage expansion on the home campus of Webster University in Webster Groves, Missouri:
As work crews complete the structural framing and concrete pours in the ISB, some work will soon begin that will start to define the interior of the building. The installation of door jambs, wall framing and the creation of priority walls will begin this weekend and run through Nov. 16 on the first and second floors of the building. Additionally, some aluminum framing for the northwest and west elevator shafts will be erected between Nov. 15 and Dec. 5.
In other ISB work:
Structural steel erection is continuing and is scheduled through Nov. 22.
Concrete pours for the floors are continuing through December 1.
Fireproofing of steel beams on the third and fourth floor has been scheduled for the next week.
Ductwork and piping on the first floor will be installed between today and Dec. 1. The same work will occur on the second floor between Nov. 15 and Dec. 6.
The framing of walls on the first floor is scheduled for Nov. 21 through Nov. 29, and on the second floor between Nov. 22 and Dec. 1.
MEP rough-in (R.I.) in wall framing at the first floor will occur between Nov. 23 and Dec. 7, and on the second floor between Nov. 25 and Dec. 8.
Over at the Parking Garage expansion:
Work crews have put the project back on schedule. Any time lost from the heavy rains two weeks ago has been gained back.
Precast erection has begun. As a result, there will be a steady stream of tractor-trailer trucks delivering steel to the site between now and mid-February of 2017. Safety workers will assigned on Garden Avenue to control traffic when deliveries are made.
Parking spaces along the east side of the existing garage are still blocked off for construction for safety reasons.  Those spaces are expected to be restored the first week of December.
Crews continue to pour concrete and build foundation walls. The walls are being built in a counter-clockwise direction around the south and east side of the new garage with the next wall pour early next week.  The last grade beam placement along the north side of the building along Garden Ave will be late next week.
For more information about the on-campus construction, visit webster.edu/construction.
tags:  college of arts and sciences, webster life, webster today, ISB,
News by Topic
Tag Categories
News by Topic
Tag Categories