Construction Update Oct 21 2016
Oct. 21, 2016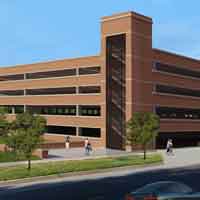 This is a regular update of the construction work for the Interdisciplinary Science Building (ISB) and the Parking Garage expansion on the home campus of Webster University in Webster Groves, Missouri:
The second round of testing in the building enclosure mock-up of the ISB (located on the southwest corner of Parking Lot K) has been postponed due to a problem with the delivery of materials needed for the structure. A new date will be announced soon.
In other ISB updates:
Structural steel erection is continuing and is scheduled through Nov. 22.
Concrete pours for the second and third floors is continuing through next week. That work will continue on levels 2, 3 and 4 through December 1.
The placement of concrete grade beams and walls for the north area of the building will continue through Oct. 27.
Over at the Parking Garage expansion:
Drilling operations are scheduled to finish today.
Monday, 250 cubic yards of concrete in grade beams were poured, putting the project past the half-way point for grade beams. 
The demolition of the east wall in the existing parking lot should be completed by this weekend.
On Tuesday, crews began installing the underground shoring system on the southeast corner of the new building. This is required by the Municipal Sewer District to prevent undermining the new garage in the event they ever need to repair the sewer lines along that façade at some time in the future. Crews have already installed 67.5 of the 92 lineal feet of the shoring system. 
The precast erection crane will be delivered to the site on October 25. The crane's 240 foot boom should be in the air by the evening of Oct. 26. Once the crane is up, crews will begin pulling the precast panels off the existing garage.
The new precast panels for the expansion will start arriving on site on Monday, October 31, 2016.  Be aware there may be some traffic delays on Garden Avenue due to the large delivery trucks entering and exiting the site.
For more information about the on-campus construction, visit webster.edu/construction.
tags:  college of arts and sciences, webster life, webster today, ISB,
News by Topic
Tag Categories
News by Topic
Tag Categories