Construction Update Oct 14 2016
Oct. 14, 2016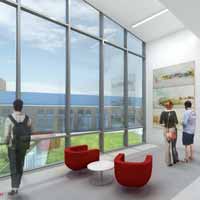 This is a regular update of the construction work for the Interdisciplinary Science Building (ISB) and the Parking Garage expansion on the home campus of Webster University in Webster Groves, Missouri:
Work crews are finishing the construction of the housekeeping pads at the ISB this week. A housekeeping pad is a concrete pad that holds mechanical equipment for the building. These pads are elevated about 3.5 inches above the floor.
In other ISB updates:
The fireproofing of the beams and columns at Level 0 (the lowest level) in the next few days.
Concrete pours for Level 2 will continue through next week. That work will continue on levels 2, 3 and 4 through December 1.
The Concrete grade beams and walls on the south end of the building has finished up this week. The beams and walls placements for the north area of the building will continue through Oct. 24.
The second round of testing in the building enclosure mock-up of the ISB (located on the southwest corner of Parking Lot K) has been scheduled for Oct. 20 and Oct. 21. As announced previously, the mock-up will be used for testing, inspection, training of the tradesmen and aesthetic purposes.
At the Parking Garage expansion Site:
Drilling operations are expected to wrap up in less than 1 week. Once finished, the two drill rigs and all drilling cores will be removed from site, freeing up space for the concrete foundation team to move more quickly.
The concrete foundations work is continuing.  Walls along the side of the building closest to the railroad tracks will start going up soon. The next large cement pour will be Monday, October 17.
The temporary guardrail in the garage is complete.  Demolition crew continues to break loose the concrete slab and precast panels on the east side of the existing garage so that the two structures can be joined together. The demolition crew is working nights (10 p.m. – 7 a.m.) in order to minimize exposure and disruption to the public.
The installation of the underground shoring system on the southeast corner of the new building will begin next week. 
A precast erection crane will be delivered to the site on October 25.  It will take two days to erect. The crane will pull the precast panels off the existing garage starting Oct. 27. 
For more information about the on-campus construction, visit webster.edu/construction.
tags:  college of arts and sciences, webster life, webster today, ISB,
News by Topic
Tag Categories
News by Topic
Tag Categories