Construction Update Sept 16 2016
Sep. 16, 2016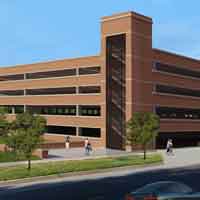 This is a regular update of the construction work for the Interdisciplinary Science Building (ISB) and the Parking Garage expansion on the home campus of Webster University in Webster Groves, Missouri:
Construction crews continue to create drilled piers for the Parking Garage Expansion project. A third drill rig was brought on site late last week. So far, crews have completed five of the 40 drilled piers for the project. Because each pier requires several loads of concrete, flagmen will be on Garden Avenue to direct traffic and monitor traffic safety.
In other garage expansion updates:
Excavation for the underground storm water detention basin at the expansion site has begun. It is located in the far northeast corner. The basin will be delivered to the site next week.
Seed and straw was spread around the bookstore area Thursday. That material will remain in place to control mud and dust until new sod can be installed in the spring.
At the ISB site:
Work crews continue to build the functional building enclosure mock-up at the south end of Parking Lot K. The crews will continue to work on erecting the mock-up through the end of the month and then will begin testing in October. As a reminder, the Functional B.E. mock-up will be used for several purposes:
It will allow the inspection and testing of the critical B.E. material interfaces, air and vapor barrier, and fenestrations to make sure there are no constructability deficiencies or water and air infiltration issues prior to the construction of the ISB's B.E. systems.  A third-party testing laboratory will visit the ISB job site and test the B.E. mockup. This process will help determine if modifications are needed before the full building is completed.
It will allow the architects to visually inspect the aesthetic qualities of the B.E. materials and make sure they comply with the basis of design and construction documents.
It will be used as an education tool for on-site tradesmen so they have a reference for how the B.E. systems must be constructed.
In other ISB updates:
The installation of grade beams at Level 0 (lowest level) at backfill area should be completed next week
Foundation walls at Level 0 backfill area will be installed starting Sept. 22 through Sept. 29
Steel erection will continue through Oct. 25
Concrete slab-on-grade will be poured at Level 1 Area B the first week of October
Starting Sept. 28 and lasting through Nov. 3, mechanical, electrical, and plumbing rough-in will occur at slab-on metal decking at Levels 2 thru 4. The Level 0 slab-on-grade concrete preparation and pour will happen Sept. 26 and Sept. 27.
For more information about the on-campus construction, visit webster.edu/construction.
tags:  college of arts and sciences, webster life, webster today, ISB,
News by Topic
Tag Categories
News by Topic
Tag Categories