Construction Update Sept 30 2016
Sep. 30, 2016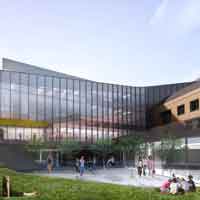 This is a regular update of the construction work for the Interdisciplinary Science Building (ISB) and the Parking Garage expansion on the home campus of Webster University in Webster Groves, Missouri:
Students, faculty and staff who want to sign the final steel beam that will be placed in the ISB can do so from 7:30 a.m. to 9:00 a.m. Oct. 14 at the Mary Ann Lee Plaza. Special paint pens will be provided. The Topping Out Ceremony to place the beam will start at 9:30 a.m. that day in the same location. More details can be found online at http://news.webster.edu/construction/2016/topping-off-ceremony.html.  
The first round of testing in the building enclosure mock-up of the ISB (located on the southwest corner of Parking Lot K) has been scheduled for Oct. 6. As announced previously, the mock-up will be used for testing, inspection, training of the tradesmen and aesthetic purposes. 
In other ISB Updates:
The cladding of the building enclosure mockup will be completed between Oct. 7 and Oct. 19. Cladding includes the installation of curtain walls, metal panels, fiber panels and masonry.
The walls at Level 0 (lowest level) will be installed by next week.
The slab on grade concrete pour on Level 1 has been scheduled for Oct. 4 through Oct. 6.
The Level 0 underground rough in is scheduled to be completed next week.
Structural steel erection continued through the first week of November.
At the Garage Expansion Project:
Drilled pier operations continue. So far, 22 of 40 piers have been completed.
The underground storm water detention basin at the northeast corner of the site was successfully installed. The rain garden is the next phase of the storm drainage installation and will take place next Spring with landscaping.
Concrete crews began excavation and concrete reinforcement of the foundations (grade beams) along column lines D and E, which is the side of the building closest to the railroad tracks. The first concrete pour could happen today. Be on the lookout for several concrete trucks entering the jobsite.
Installation of a temporary guardrail on the east side of levels two, three and four of the existing garage could begin next week. Some parking spaces along the east walls could be temporarily blocked off for this work, but those spaces will be restored when the work is completed.
For more information about the on-campus construction, visit webster.edu/construction.
tags:  college of arts and sciences, webster life, webster today, ISB,
News by Topic
Tag Categories
News by Topic
Tag Categories