Excavation Begins in May for the Interdisciplinary Science Building
Apr. 28, 2016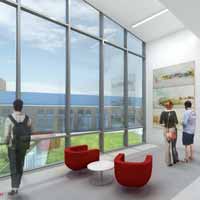 Updated May 4: With final approvals secured, excavation is expected to begin on Thursday, May 5.
ST. LOUIS – Excavation for the future Interdisciplinary Science Building (ISB) will begin in early May. Work crews will remove 21,000 cubic yards of dirt and rock and haul it away. Excavation and hauling is expected to last about one month.
A tower crane will be erected during this time, requiring several utilities be moved. This will cause a one-day power outage for the East Academic Building, Priest House and Thompson Music Building this weekend. Facilities Planning and Management staff have been in communication with occupants of those buildings to prepare for the outage.
The excavation phase of the project could start as soon as next week, but likely will be delayed until after Commencement on May 7 as various authorized jurisdictions process the necessary construction approvals and permits.
During this phase:
Large trucks will enter and exit Lot K between 7 a.m. and 5 p.m. each day to pick up loads of dirt and rock for disposal.
The trucks will use Big Bend Boulevard to travel between the campus and Highway 44.
While there is a plan to reduce dust and dirt, there still will be more dust in the air than normal during this phase, causing cars parked nearby to be dirtier than normal.
Subsurface drilling of piers will cause more noise than usual.
Some utilities will be moved to make room for a large crane. This will cause an 8-hour power outage for the East Academic Building, H. Sam Priest House, and Thompson Music Building. These outages will be scheduled on Sunday, May 1. Anyone who works in those buildings is encouraged to turn off and unplug all computers, printers, fax machines and other sensitive electronic equipment before Sunday. Any perishable or frozen items in any refrigerators in those buildings should be taken home, as the refrigerators will likely defrost during the power outage.
The number of available parking spaces available in Lot K will not be further affected during excavation; construction workers are parking off site and being shuttled to campus each day so they do not take up spaces on campus. However, University community members are encouraged to continue the following measures during this process, including:
Consider parking lot alternatives to Lot K, which is where large trucks will be moving in and out throughout the excavation.
Remember that space on the top levels of the parking garage are often available even when other lots are full.
Inform and encourage faculty, students, and staff to allow extra time for commuting to campus because the scheduled construction activities could cause temporary traffic congestion in the areas around the construction site.
For those who live near campus please consider taking public transportation or biking to campus. The University's UPass provides students, faculty and staff with free transit on Metro buses and MetroLink. Bike racks are available throughout campus, and a bike maintenance station is installed outside the University Center.
The University will continue to explore other parking options as the construction project continues.
The entire project, including the expansion of the parking garage, is expected to be completed in July of 2017. Please watch Webster Today or the University's online newsroom for more announcements and updates about the project.
tags:  college of arts and sciences, home page, webster life, webster today, ISB,
News by Topic
Tag Categories
News by Topic
Tag Categories