Paric Construction Selected to Build Interdisciplinary Science Building
Mar. 29, 2016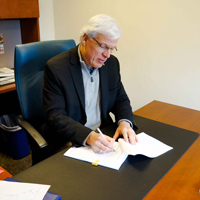 ST. LOUIS – Douglas Anderson, the interim chief financial officer of Webster University, signed a contract with Paric Corporation Thursday, March 24, to act as the general contractor of the new Interdisciplinary Science Building and oversee the work. Cannon Design was selected as the building's architect.
This week, fencing will be placed in the area followed by the relocation of utilities. Parking Lot L North will be closed and some spaces in parking Lot K will be temporarily blocked off.
"Paric Construction has a long history with Webster University and has built several iconic buildings on the home campus," Anderson said. "We look forward to continuing our partnership with this award-winning company with this project."
Paric oversaw construction of the East Academic Building (EAB), the Emerson Library, the parking garage, and East and West Halls. The company also oversaw the renovation of Maria Hall. Paric was founded in St. Louis in 1979. It is one of the largest privately held companies in the Midwest.
Cannon Design is an international architectural firm with a St. Louis office.
To prepare for construction, orange barriers will be placed around trees in the area that are not to be removed during the work. That will be followed by fencing around the general construction area, which will encompass the area north of the EAB but also will include all of parking lot L North, 29 spaces in Lot K, and the low-emission vehicle spaces on the east side of the East Academic Building. After that, workers will locate utilities in the area and move them to protect them from damage. In April, digging will begin for the construction of the building.
The construction is expected to be completed in 2017. When completed, the building will help fill the needs of the community by offering robust STEAMM (science, technology, engineering, arts, math and medicine) programs. Several studies over the years have forecast a dramatic increase in jobs in the region that require employees to have STEAMM-related preparation.
The building will be about 87,000 square feet. The estimated cost of the project, including all the new equipment, fixtures and other items for the building, is estimated at $44 million. As part of the construction, the parking garage will be expanded. That work is tentatively expected to begin in the fall.
With its home campus in St. Louis, Missouri, USA, Webster University (www.webster.edu) comprises an action-oriented global network of faculty, staff, students and alumni who forge powerful bonds with each other and with their communities around the globe. Founded in 1915, Webster is a private non-profit university with more than 17,000 students studying at campus locations in North America, Europe, Asia and Africa and in a robust learning environment online. The university is committed to delivering high-quality learning experiences that transform students for global citizenship and individual excellence.
tags:  announcement, home page, president, provost, webster life, webster today, ISB,
News by Topic
Tag Categories
News by Topic
Tag Categories