Construction Update April 25 2017
Apr. 25, 2017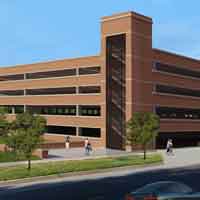 This is a regular update of the construction work for Browning Hall, Interdisciplinary Science Building and the Parking Garage expansion on the home campus of Webster University in Webster Groves, Missouri:
The Parking Garage Expansion Project is nearly finished. Crews have striped parking spaces and hung new directional signs. Landscapers are putting in new trees, flowers and grass and hope to have that completed by the end of next week. Once the occupation permits are issued, an announcement will be made letting all students, faculty and staff know that they can start parking in the new expansion. Watch this space and Webster Today closely for that announcement.
Between 7 a.m. and 3 p.m. Saturday, April 29, the exhaust fans for the building will be delivered on site and installed. As a result, the north wing of the EAB must be empty that day. A crane will be set in the space between the East Academic Building (EAB) and Nerinx Hall to hoist the fans into place. Large trucks also will be parked on the north side of Garden Avenue, which may cause some traffic delays for that day. Flagmen will be on site to make sure traffic passes through safely. Before any loads are hoisted over the north wing of the EAB, the building will be swept to make sure that those areas are vacated. The crane will not hoist the exhaust fans over Nerinx. The entire process is expected to last eight hours.
The selection of furniture for Browning Hall, Interdisciplinary Science Building has also been finalized. Check Webster Today for details about the furniture, including a link to a PDF that has photos of the furniture that was chosen for the new building.
In other Browning Hall, Interdisciplinary Science Building developments:
The new paving stones for the sunken courtyard should arrive next week and will be installed during the next two weeks.
The planting of the five new trees in the courtyard will be completed this week.
The freight elevator is now working and being used by construction crews. The installation of the passenger elevator should be completed in the next two weeks.
Interior doors are now being installed in the building. That work should last through mid May.
Counters and ceramic tiles are being installed in the restrooms. That work is expected to last through mid May.
Exterior lights are being installed on the roof. That work will last through early May.
For more information about the on-campus construction, visit webster.edu/construction.
tags:  webster life, webster today, ISB,
News by Topic
Tag Categories
News by Topic
Tag Categories