Planned Power Outage in Parking Garage - Construction Update Feb. 17 2017
Feb. 17, 2017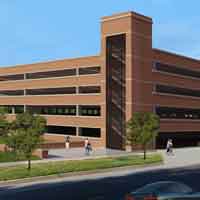 This is a regular update of the construction work for the Interdisciplinary Science Building (ISB) and the Parking Garage expansion on the home campus of Webster University in Webster Groves, Missouri:
Electricity to the existing Parking Garage will be temporarily shut down at 10:30 p.m. Saturday night while work crews tie the new electrical system in the garage expansion into the existing system. Power will be out for anywhere from one to three hours. During this time, the elevator will be temporarily offline and the automatic access door will cease to function. Emergency lighting in the garage will turn on, but the garage will be darker than normal.
Public Safety Officers will be assigned to monitor the garage and will be available to escort anyone to their vehicles. The power outage also will affect Public Safety's office space, but Public Safety officers can be reached by calling 314-220-8487.
In other Parking Garage updates:
Work crews are finishing up the remaining concrete foundation.
Work is continuing on the new stair tower. The last wall is expected to be completed Wednesday.
The plumbers are continuing to core drill in the garage in anticipation of starting to install above ground plumbing.  Of the 176 cored plumbing holes on the project, they are approximately half way complete.
Over at the ISB:
Crews have nearly completed the stair walls in the new courtyard. That work is expected to be finished by the end of the month. Starting in early March, the crews will start installing drain pipes, rock beds and electrical conduits.
Glass continues to be installed in the curtain wall on the exterior of the building. That work is expected to be finished by the end of the month.
The first of the interior glass walls are scheduled to be installed starting the first week of March. That work is expected to last throughout the entire month.
Workers are completing the framing on the final interior walls. That work is expected to be completed in mid March.
Drywall installation is continuing throughout the end of the month on all four floors. Painting of interior walls has begun.
In early March, acoustical tiles will start to be installed in ceilings.
Brick veneer is being installed. That work is expected to last through March.
Work is continuing on the installation of the freight elevator. That will be followed in March with the installation of a passenger elevator.
For more information about the on-campus construction, visit webster.edu/construction.
tags:  webster life, webster today, ISB,
News by Topic
Tag Categories
News by Topic
Tag Categories