Construction Update Feb 3 2017
Feb. 3, 2017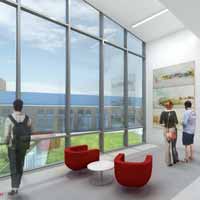 This is a regular update of the construction work for the Interdisciplinary Science Building (ISB) and the Parking Garage expansion on the home campus of Webster University in Webster Groves, Missouri:
This is a friendly reminder that Lot K will be closed Feb. 9, 10, 11 and 12 while crews take down the tower crane used for the ISB. On Feb. 11 and 12 (Saturday and Sunday), the Priest Building also will need to be closed for safety purposes. See our previous announcement about this closure.
The Parking Garage Expansion Project is making significant progress:
The precast erection crews are working on the last bay of the structure. It is expected to be completed early next week.
Once the crane is walked out of the building footprint, structural concrete crews will be moving in to finish the footing and walls around the new stair tower.  This mean an increase in trucks delivering rebar and forms and concrete over the new two weeks, so please be aware of traffic on Garden Avenue.
The plumbers have completed underground piping and backfill on the south half of the new garage. The next step will be to place slab on grade in the south half of the garage. This means trucks of rock and rebar will be coming in to prep the slab with the concrete placement being scheduled for Friday, Feb. 10.
Plumbers have moved up to the north half of the building with their underground work and are following right on the heels of the precast erection.  They are also starting to core drill for the above ground plumbing lines that will be draining rain water from each floor.
The electricians are continuing to run new conduit and wire to feed the lights in the new garage. Lights have already been hung on the ground floor but will not be lit for a few weeks.
Over at the ISB:
 Work on the courtyard stairs will continue through next week.
Drywall installation is continuing throughout the end of the month on all four floors. Painting of walls has begun.
Workers are completing the framing on the final interior walls. That work is expected to be completed by mid March.
In early March, acoustical tiles will start to be installed in ceilings.
Next week, brick veneer will start to be installed. That work is expected to last through March.
Starting Feb. 13, and lasting through the first week of March, the freight elevator will be installed. That will be followed in March with the installation of a passenger elevator.
Glass continues to be installed in the curtain wall on the exterior of the building. That work is expected to be finished by the end of the month.
For more information about the on-campus construction, visit webster.edu/construction.
tags:  webster life, webster today, ISB,
News by Topic
Tag Categories
News by Topic
Tag Categories