Construction Update Dec 12 2017
Jan. 12, 2017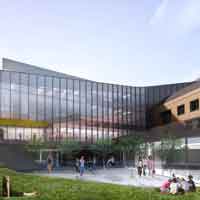 This is a regular update of the construction work for the Interdisciplinary Science Building (ISB) and the Parking Garage expansion on the home campus of Webster University in Webster Groves, Missouri:
All members of the University community are invited to attend the upcoming ISB Furniture Fair, to be held from 9 a.m. to 5 p.m. Jan. 24 and Jan. 25 in the Luhr Building. This is the chance for all students, faculty and staff to offer feedback on the furniture that is under consideration for the ISB. Snacks will be offered and prizes will be drawn for attendance. The prizes will be drawn at the end of each day, at 3:00 pm, using the names of those who registered as they walked through the fair.  Fair attendees do not have to be present at the time prizes are announced and will be contacted to retrieve them at a later date. See http://news.webster.edu/webster-life/2016/furniture-fair-isb.html for more information.
Work is continuing at the ISB. The most significant progress that will be completed in the coming weeks includes:
Drywall is being installed on all four floors. The work will continue through the first week of February.
Glass is being installed in the curtain wall on the exterior of the building. That work will last through the end of the month.
Retaining walls and window wells will be installed on the exterior of the building starting Jan. 20 and lasting through Feb. 13.
Ductwork and piping continues to be installed on all levels. That work will last through the end of the month.
Work on the courtyard stairs begins this week and will last through the end of the month.
The brick veneer will be installed on the south and east sides of the building starting Jan. 25 through Feb. 22.
Work is also continuing at the Parking Garage expansion:
The issue of aligning the new garage with the existing garage has been fixed. Erection crews have resumed erecting precast in the northwest corner of the garage. This work is expected to be completed next week, and the second bay to be erected by Jan. 20.
For safety reasons, the parking spaces in the existing garage will need to be blocked off until 01/23.
The plumbers are continuing layout and underground rough-ins in the South half.
The electricians are continuing to run new conduit to feed the lights in the new garage.
For more information about the on-campus construction, visit webster.edu/construction.
tags:  webster life, webster today, ISB,
News by Topic
Tag Categories
News by Topic
Tag Categories