Construction Update Jan 19 2017
Jan. 19, 2017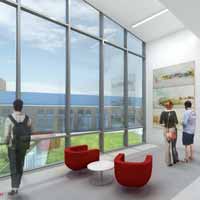 This is a regular update of the construction work for the Interdisciplinary Science Building (ISB) and the Parking Garage expansion on the home campus of Webster University in Webster Groves, Missouri:
Reminder: All members of the University community are invited to attend the upcoming ISB Furniture Fair, to be held from 9 a.m. to 5 p.m. Jan. 24 and Jan. 25 in the Luhr Building. This is the chance for all students, faculty and staff to offer feedback on the furniture that is under consideration for the ISB. Snacks will be offered and prizes will be drawn for attendance. See http://news.webster.edu/webster-life/2016/furniture-fair-isb.html for more information.
The most significant progress that will be completed in the coming weeks at the ISB includes:
Drywall is being installed on all four floors. The work will continue through the first week of February.
Glass is being installed in the curtain wall on the exterior of the building. That work will last through mid-February.
Retaining walls and window wells are being installed on the exterior of the building. That work will last through the middle of February.
Ductwork and piping continues to be installed on all levels. That work will last through early February.
Work on the courtyard stairs continues and will last through the end of the month.
The brick veneer will be installed on the south and east sides of the building starting Jan. 27 through Feb. 24.
Work is also continuing at the Parking Garage expansion:
The precast erection crews completed the 1st of 5 column to column sections of the North half of the garage on this Monday, meaning the project is well past the 50 percent mark.
Assuming the weather cooperates, all the parking spaces in the current garage will open up by the end of next week.   
The plumbers began excavating the south west corner of the new garage in order to start laying sanitary lines. They will continue excavating and laying pipe in the South half of the garage for another week or so.
The electricians are continuing to run new conduit to feed the lights in the new garage. The installation of new fixtures could start the second week of February.
For more information about the on-campus construction, visit webster.edu/construction.
tags:  webster life, webster today, ISB,
News by Topic
Tag Categories
News by Topic
Tag Categories