Construction Update Jan 27 2017
Jan. 27, 2017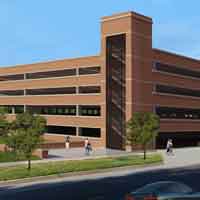 This is a regular update of the construction work for the Interdisciplinary Science Building (ISB) and the Parking Garage expansion on the home campus of Webster University in Webster Groves, Missouri:
This is a friendly reminder that Lot K will be closed Feb. 9, 10, 11 and 12 while crews take down the tower crane used for the ISB. On Feb. 11 and 12 (Saturday and Sunday), the Priest Building also will need to be closed for safety purposes. See our previous announcement about this closure.
Over at the ISB construction site:
Work on the courtyard stairs has started and will continue through mid-February.
Drywall installation is continuing for the next week on all four floors. Some painting of walls has begun.
Starting Feb. 7, thermostat controls and wiring will be installed.
Glass continues to be installed in the curtain wall on the exterior of the building. That work will last through mid-February.
Retaining walls and window wells are being installed on the exterior of the building. That work will last through the middle of February.
Ductwork and piping continues to be installed on all levels. That work will last through early February.
The brick veneer will be installed on the south and east sides of the building starting Feb. 6 and lasting through the first week of March.
Work has started to install the roof of the structure. That work is expected to last through mid-February.
The Parking Garage expansion project continues to advance:
The precast erection crews have nearly completed half of the north side of the garage, which would put the garage at nearly 75 percent complete.
Starting Feb. 7, work will start on the new stair tower for the northeast corner of the garage.
The parking spaces that have been blocked on the east side of the garage should reopen by early next week.  
The plumbers are wrapping up their underground work on the south half of the garage this week.  The plumbers will start core drilling on the upper floors this week so that drains and above-grade piping can be set.
The electricians are continuing to run new conduit and wire to feed the lights in the new garage. Lights have already been hung on the ground floor but will not be lit for a few weeks.
For more information about the on-campus construction, visit webster.edu/construction.
tags:  webster life, webster today, ISB,
News by Topic
Tag Categories
News by Topic
Tag Categories