Construction Update July 25 2017
Jul. 25, 2017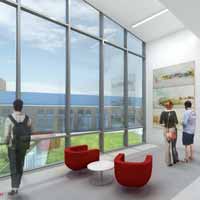 This is a regular update of the construction work for Browning Hall, Interdisciplinary Science Building, Marletto's Marketplace and The Sverdrup Building on the home campus of Webster University in Webster Groves, Missouri:
Browning Hall:
This is a friendly reminder that Browning Hall is still officially under construction and is expected to be in that state until early August. Because of this, only authorized personnel wearing the proper safety gear are allowed in the building. Violations of this could potentially result in fines against the University by the Occupational Safety and Health Administration and also risk having the building shut down for an official safety investigation. When the University receives an occupational permit from the city, the University will issue a statement in Webster Today.
Marletto's Marketplace:
Work in Marletto's is progressing at a quick pace. At the start of the summer, the entire space was stripped down to concrete and drywall and all the furniture was donated to charity. Since then, a new floor, new counters, and a new wall tile has been installed. The space has also been repainted. Currently, new equipment is being delivered and installed in the space. Work is expected to continue through August, and the space is scheduled to reopen when students return to campus.
Sverdrup Building:
Design and construction plans have been finalized for the renovation and reconfiguration of the first floor core of the building, as well as the east and west entrances to the building. The concept is for a modern, sleek appearance tailored to meet some of the special academic requirements of the School of Communications. 
All the technology and furniture has been removed in preparation for the demo to begin. Work should begin later in August.
Planned Power Outage:
This is a friendly reminder that Ameren has scheduled a power outage for the Webster Groves home campus on Saturday, July 29. Most buildings on campus will start to lose power as early as 12:30 a.m. that morning. Power is not anticipated to be restored until later Saturday afternoon.
The four buildings that will not be affected by this outage are:
The Luhr Building
Village Apartments
Opera Theatre St. Louis
Repertory Theatre of St. Louis offices
For those who work in any other building on campus, please turn off your computer and any other electronic equipment before leaving for the weekend on July 28. Also, remove food from refrigerators and take precautions with small office refrigerators, as they will defrost. The buildings will be inaccessible to all students, faculty and staff during the outage. This includes the Emerson Library and the University Center.
tags:  president, provost, webster life, webster today, ISB,
News by Topic
Tag Categories
News by Topic
Tag Categories