Construction Update March 17 2017
Mar. 17, 2017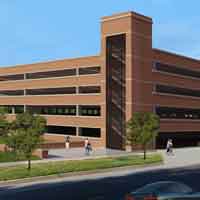 This is a regular update of the construction work for Browning Hall, Interdisciplinary Science Building and the Parking Garage expansion on the home campus of Webster University in Webster Groves, Missouri:
There are two major announcements in this bulletin:
1.)    This is a friendly reminder that there is a planned power outage on Sunday, March 19 that will last approximately 6 hours. The outage will affect the East Academic Building, the H. Sam Priest House and the Thompson Music Building. During the outage, no students, faculty, or staff will be allowed in any of the three buildings for safety reasons. On Friday, March 17, all students, faculty and staff who work in the East Academic Building, the H. Sam Priest House or the Thompson Music Building should turn off their computers and any other electronic devices and remove any perishables from the refrigerators before leaving for the weekend. Refrigerators will likely defrost during the power outage.
2.)    The Parking garage is nearly finished. A ribbon-cutting ceremony will be held at 11 a.m. April 20 to officially open up the garage expansion. You can read more in the announcement here.
At the Parking garage:
The crane is being dismantled and removed this week.

The steel stairs inside the stairwell are expected to be completed Monday.

The glass curtainwall and roofing at the stair tower will start being installed next week.

The concrete flatwork team will start pouring strips on the upper levels of the garage next week.

The plumbers continue to set drain piping and are working on the north half of the garage.

Electricians continue to install conduit, wiring, and lights throughout the new garage.  Although workers have been given the green light to get the lights in the existing garage changed out to match the new garage, they cannot do that until the expansion is opened.

Removal of the existing bushes in front of the bookstore will start early next week.
Over at Browning Hall:
Rock and storm piping is being installed in the new courtyard. That work is expected to be completed next week.

Soil for the five trees in the new courtyard will be delivered next week. Those trees will be planted at the end of the month.

Work on the new sidewalk on the roof of the lecture hall will start at the end of the month.

Crews continue to install interior glass walls and acoustical ceiling tiles. Drywall ceilings in some areas also are being installed this month.

Work on the flooring begins early next week That work will continue through early April.

Brick veneer continues to be installed. That work is expected to last through the end of April.

Work on the installation of the freight elevator continues and is expected to be completed by early April. The passenger elevator will be installed in April through May.



For more information about the on-campus construction, visit 

webster.edu/construction

.
tags:  webster life, webster today, ISB,
News by Topic
Tag Categories
News by Topic
Tag Categories