Construction Update March 30 2017
Mar. 30, 2017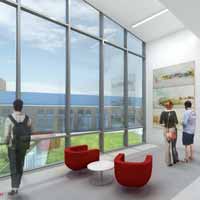 This is a regular update of the construction work for Browning Hall, Interdisciplinary Science Building and the Parking Garage expansion on the home campus of Webster University in Webster Groves, Missouri:
ST. LOUIS - Due to a delay in the delivery of a stand pipe, the opening of the parking garage extension has been rescheduled by one week. The pipe is needed for the fire suppression system in the garage. The April 20 ribbon cutting ceremony has been canceled, but the garage will open by the end of April to students, faculty and staff. An exact date will be announced in the near future.
In other work at the Parking garage:
The glass curtainwall is going up on the east side of the new stair tower. And should be completed next week.
Work crews will install the downspout from the roof next week.
Chain link fencing around the new facilities area is being installed. That work should be completed next week.
The south staircase in the existing garage will be closed for a few days next week so work crews can modify the existing handrail. Look for notices from Public Safety as to when that stairwell will be closed so that work can be completed.
Some existing curbs and approaches are being reconfigured for the new garage. This work will continue for several weeks, and flagmen will be assigned to direct pedestrians and vehicles around the work for safety purposes.
Lighting and plumbing drains continue to progress and are more than 85% complete.
Landscaping in front of the bookstore continues, with plants being delivered to the site next week.
Over at Browning Hall:
Rock and storm piping continues to be installed in the new courtyard this week.
The five new trees will be planted in the new courtyard next week.
Crews will backfill the green roof over the new lecture hall in the next few days.
Work on the new sidewalk on the roof of the lecture hall will start in about two weeks.
Crews continue to install interior glass walls, drywall, flooring and acoustical ceiling tiles. That work will continue for several weeks.
Brick veneer continues to be installed. That work is expected to last through the end of April.
Work on the installation of the freight elevator continues and is expected to be completed by mid-April. The passenger elevator will be installed in April through May.
For more information about the on-campus construction, visit webster.edu/construction.
tags:  webster life, webster today, ISB,
News by Topic
Tag Categories
News by Topic
Tag Categories