Construction Update May 2 2017
May. 2, 2017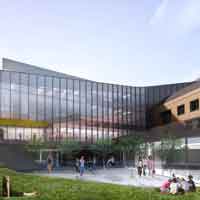 This is a regular update of the construction work for Browning Hall, Interdisciplinary Science Building and the Parking Garage expansion on the home campus of Webster University in Webster Groves, Missouri. 
The garage is nearly finished, as workers are putting the final touches on the landscaping. We are anticipating receiving an occupation permit any day now. Stay tuned ... 
Browning Hall continues to make tremendous progress. Inclement weather cancelled a planned installation of large ventilation fans on Saturday, April 29. That operation will be rescheduled to a day with calmer weather.
In other Browning Hall, Interdisciplinary Science Building developments:
The new light bollards and the sidewalk on the lecture hall roof are both expected to be installed by the end of next week. In the following weeks, the backfill around the sidewalk will be installed, along with a handrail.
Water spray tests will be conducted around the exterior of the building during the next two weeks.
Fiber cement siding will be installed starting next week and lasting through the middle of June.
Casework in the laboratories is being installed. That work is expected to through June.
Workers continue to install counters and ceramic in the restrooms, and painting will begin soon. All the restrooms are expected to be finished by the middle of August.
Work has begun on installing and adjusting the HVAC system. That work is expected to be finished by the end of June.
For more information about the on-campus construction, visit webster.edu/construction.
tags:  webster life, webster today,
News by Topic
Tag Categories
News by Topic
Tag Categories