Sverdrup Construction Update April 12 2018
Apr. 12, 2018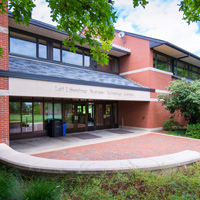 This is a regular update of the construction work on the home campus of Webster University in Webster Groves, Missouri:
Sverdrup Building:
Work on the west entrance at Big Bend is progressing quickly. This entrance will be closed for at least the next three weeks so that concrete can be placed and the new storefront is installed.  During this time the east entrance will remain open and the second-floor bridge will provide access to those 2nd-floor classrooms on the west wing during class hours. Access through the faculty suite will remain open for evening classes.  Public Safety will patrol this area on a more regular basis and lock the suite doors at 10:00 pm after classes end. New directional signage reflecting this access is being prepared and will be posted in the building soon. We appreciate your continued patience as we continue to make progress on this important project.
As previously announced, the roof over the northeast entrance has been removed and work is progressing on replacing it. As a result, there is a noticeable increase in construction noise in this area of the building.
The second-floor kitchenette is operational, but hot water in that room will not be available for the next two weeks. Hot water is available from other sinks in the building.
Because of the warm weather, doors and windows in the building will be propped open (weather permitting) to help vent the fumes being caused by painting happening throughout the project. The painting is expected to continue for several weeks. 
News by Topic
Tag Categories
News by Topic
Tag Categories