Construction Update April 20 2018
Apr. 20, 2018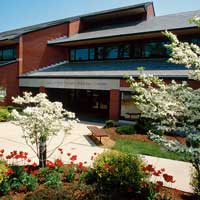 This is a regular update of the construction work on the home campus of Webster University in Webster Groves, Missouri:
Sverdrup Building:
The Heating, Ventilation and Air Conditioning System will be shut down for one hour on Monday, April 23 so that work can be performed on the system.
The west elevator will be shut down on Tuesday, April 24, and Wednesday, April 25.  The second-floor corridor will remain accessible through the east entrance and east elevator. Access through the faculty suite will remain open for evening classes.  Public Safety will patrol this area on a more regular basis and lock the suite doors after 10 p.m. after classes end.
Workers will begin demolishing the storefront at the north entrance of east atrium in early May. The work is expected to last two days.  
Storefront glazing installation at the north entrance of west atrium is scheduled for the first week of May. The storefront glazing systems at the south entrances of east and west atriums is scheduled for mid-May.  
There will be a lot of masonry work happening between now and early May:

Shoring install at west elevations
Remove existing masonry at east elevation
Remove existing masonry at west elevation
Install structural support at east and west elevations
Reinstall masonry at east elevation 

Interior painting and priming is scheduled from now through early May. When weather permits, doors and windows will be left open to better vent the paint fumes.
News by Topic
Tag Categories
News by Topic
Tag Categories