Construction Update April 6 2018
Apr. 6, 2018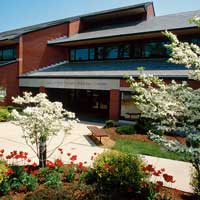 This is a regular update of the construction work on the home campus of Webster University in Webster Groves, Missouri:
Sverdrup Building:
The pace of construction is steadily increasing. Expect to see more construction workers and more activity in the building in the next week. This will result in an uptick in noise as the work accelerates.

Painting

has started and will continue to the end of next week.

On Monday, April 9th workers will open the roof section at the northwest entrance (weather depending).

Masonry shoring work has begun at the northeast entrance

Glaziers will begin installing the interior aluminum window frames this week. The work will continue for at least another week.

The second-floor kitchenette will be operational. However hot water will not be available at the sink for the next two weeks.

The east elevated corridor will be shut down for four hours in the next couple days while workers remove the second- floor restroom walls. The west restroom will remain operational. Look for changes in the directional signage to guide you

around

the construction.

Effective Wednesday, April 11, 2018 the west entrance at Big Bend will be closed for 2 – 3 weeks as the old entrance is removed and the new store front is installed.  During this time the east entrance will remain open and the second-floor bridge will provide access to those second-floor classrooms on the west wing. During this time the west elevator will still be in operation, however, it will only be accessible from the interior hallways. We appreciate your continued patience as we continue to make progress on this important project.
News by Topic
Tag Categories
News by Topic
Tag Categories