Construction Update Feb 2 2018
Feb. 2, 2018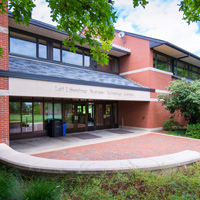 This is a regular update of the construction work on the home campus of Webster University in Webster Groves, Missouri:
Sverdrup Building;
On Saturday, Feb. 4, from 7 a.m. to 3:30 p.m., work crews will conduct saw cutting of the concrete floor on the first floor. This could potentially be very noisy.
Starting this week, selective demolition will continue throughout the building (the removal of some walls, removal of pipes or conduits, etc.). This work potentially could be disruptive at times. The dates for this work are Feb. 1, 2, 6, 7, 9 and 12. This work will primarily happen on the west side of the building.
On Saturday, Feb. 11, work crews are tentatively scheduled to shut down the hot water lines used to heat the building so that work can commence on the new HVAC system for this section of the building. The shutdown will last several hours. This work is contingent on the weather that day. If temperatures are expected to be in the '30s or '40s, the work could be rescheduled for another weekend.
Exterior work on the north side of the building is expected to start in the next month. Crews are scheduled to pour the concrete grade beams, which may cause some pedestrian traffic issues. More information will be shared once a final date for the work is set.
tags:  school of communications, webster life, webster today,
News by Topic
Tag Categories
News by Topic
Tag Categories