Sverdrup Construction Update Feb 8 2018
Feb. 8, 2018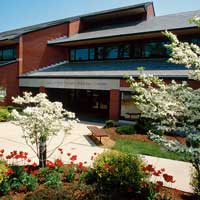 This is a regular update of the construction work on the home campus of Webster University in Webster Groves, Missouri:
Sverdrup Building;
On Saturday, Feb. 10, work crews are tentatively scheduled to shut down the hot water lines used to heat the building so that work can commence on the new HVAC system for the central section of the building. The shutdown will last for most of the day. This shutdown will affect heat and therefore the comfort level in Sverdrup. Because the Sverdrup Building and the Emerson Library have an interconnected heating system, this shut down could also affect the library. Work crews will attempt to temporarily isolate the library's heating system from Sverdrup but may have to shut down both heating systems. This work is contingent on the weather that day and may be rescheduled at the last moment.
Selective demolition will continue throughout the building (the removal of some walls, removal of pipes or conduits, etc.). This work potentially could be disruptive at times. The dates for this work are Feb. 8, 13, 14, 19, 21, 22 and 23.
New electrical wiring for both low voltage and line voltage continues to be installed.
A "mock-up" of the polished and hardened concrete floor finish for the entryways and the main hallway has been completed. 
Installation of the new ductwork for the HVAC system continues.
Crews are scheduled to pour the concrete grade beams Monday through Friday of next week. The work will be on the north side (Big Bend Boulevard) side of the building.  Ingress and egress to the building from Big Bend will not be affected while this work is ongoing.
Work crews have nearly completed upgrade work on the sprinkler system in the center of the building.  Sprinkler work will start and stop throughout the project.
News by Topic
Tag Categories
News by Topic
Tag Categories