Sverdrup Construction Update March 9 2018
Mar. 9, 2018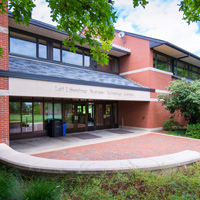 This is a regular update of the construction work on the home campus of Webster University in Webster Groves, Missouri:  
Workers are currently removing the existing glass entrances on the north (Big Bend) and south (Quad) sides the building. The work is expected to continue through next week. Temporary building enclosures are being built to protect the interior of the building. New glass entrances will start being erected this week through the end of March. 

The northwest entrance (Big Bend side) will be temporarily closed during Spring Break. Access to the west elevator will be periodically closed during this time. The east elevator will still be accessible and can be used to gain entry to the second floor of the building during normal working hours. The west elevator also will be operational after 6 p.m. each evening and can be reached through the loading dock entrance of the building. Full access to the elevator will be restored by March 19. 
Significant masonry work on the south side (the Quad side) will start later next week through the end of the month. The structure will need to be shored up and some brickwork will be removed, while crews reshape the entrances to the building. Work on the north side (Big Bend side) will start later this month. 

Saw cutting of the concrete floor to create trenches for electrical conduits will happen throughout the week next week. This work can be noisy and can also create dust. 

During the week of March 19, interior painting will start. This could create some fumes. Workers will try to keep doors and windows open to increase air circulation, weather permitting. 

During the week of March 26, interior concrete work will occur. This work can sometimes become noisy. 

The doors to the new classrooms, labs and offices will be framed starting the week of March 19 through the end of the month. 
tags:  school of communications, webster life, webster today,
News by Topic
Tag Categories
News by Topic
Tag Categories