Sverdrup Construction Update May 4 2018
May. 4, 2018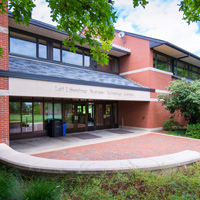 This is a regular update of the construction work on the home campus of Webster University in Webster Groves, Missouri:
Sverdrup Building:
Miscellaneous steel supports at the east wing stairs will be installed starting next week through the end of May. 
Masonry will be reinstalled at the east and west elevations this week through the end of May.
Storefront glazing at the north entrances on the west side and on the south entrances will start up in the next few days. The work is expected to last through the middle of May.
Roof repairs on both the west and east elevators is expected to start in the middle of May and last through the end of the month.
After Commencement weekend, the west atrium corridor will be closed so that overhead work can be conducted. This will cut-off access to the west elevator. When this work is occurring, those who use the east elevator to get to the second floor will not be able to access the second floor after normal business hours. The work in the corridor is expected to last about a week.
Interior painting and priming is continuing. Workers have completed the priming and painting of steel and have moved to the new drywall. That work is expected to be completed by next week. When weather permits, doors and windows will be left open to better ventilate the space.
Three handicap parking spaces at Lot F located between the Visual Arts Building and Sverdrup Hall are being temporarily used for construction deliveries and storage to reduce construction traffic along Bend Bend Blvd. These parking spaces will be restored after the Sverdrup Hall Project is completed (approximately in late June). 
News by Topic
Tag Categories
News by Topic
Tag Categories