Furniture Fair Round Up: Students, faculty, staff weigh in on ISB
Jan. 30, 2017
More than 150 people attended the Interdisciplinary Science Building Furniture fair in the Luhr Building Jan. 24 and 25, giving feedback on the many tables and chairs under consideration for the ISB when it opens later this year.
Furniture that was offered included stools for laboratories, classroom desks and chairs, office furniture, and furniture for the student lounge/common areas planned throughout the ISB. Participants were asked to test out the furniture and vote on what they liked the best.
During the event, attendance prizes were drawn. The prizes were selected to reflect the many majors that will call the ISB home. Congratulations to the following people (with the prizes they received):
Kelli Cardine, psychology student - Artisan Brain Cups (Psychology)
Don Conway-Long, Anthropology & Sociology faculty member - Egyptian Lights Pyramid (Anthropology)
Linda Dahlgren, Foundation and Government Grants – Quick Pose Animator (Physics)
Mary Ann Drake, nursing faculty member - Nursing Wine Goblet (Nursing)
Gabrielle Halley, staff member in nurse anesthesia - Nurse Anesthesia Journal and Necklace (Nurse Anesthesia)
Cheryl Kennedy, Scott Air Force Base - Sociology Tote Bag (Sociology)
Herman Krueger, faculty member in the biology and chemistry departments - Periodic Chart (Chemistry/Physics/Biological Sciences)
John Link, Career Planning & Development Center - Magnetic Levitator (Physics)
John Massena, Admissions - Sociology Flask (Sociology)
Celeste Meyer, biology student - Pocket Microscope (Biological Sciences)
Craig A. Miller Jr., management student - Deck Prism (Anthropology)
Silvia Navia, faculty member, International Languages and Cultures  - Magic Soap (International Languages and Cultures/Physics)
Elysha Nemeth, biology student - Science Pens (Biological Sciences)
Heather Riebel, Accounting Services - Asterism Kinetic Sculpture (Physics)
Jody Spiess, faculty member in the nursing department - EKG Necklace (Nursing)
Mercedes Stephenson, faculty member, Biological Sciences - Carnivorous Plants Terrarium (Biological Sciences)
Jill Stulce, faculty member in nurse anesthesia - Nurse Anesthesia Necklace (Nurse Anesthesia)
Mo Sue, physics student – The PhiTOP (Physics)
Emily Thompson, faculty member in international languages and cultures - International Languages Necklace (International Languages and Cultures)
Deborah White, gaming student - Laser Game (Anthropology and Physics)
Spellman Brady & Company, the University's furniture consultants, will tally all the votes for furniture collected during the fair and present the results to the ISB Project Executive Committee, which will then determine the next steps on moving forward with purchasing furniture.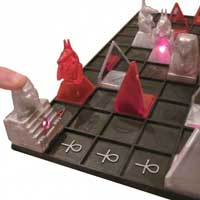 Construction on the ISB is expected to be completed this summer. That will be followed by a period where followed by a period of having furniture and equipment installed along with moving faculty offices from Webster Hall to the ISB. The building will open to the community in the fall of 2017.
To follow progress on the ISB as well as the Parking Garage expansion, visit www.webster.edu/construction. 
tags:  employee news, webster life, webster today,
News by Topic
Tag Categories
News by Topic
Tag Categories