The Parking Garage Extension is Open
May. 2, 2017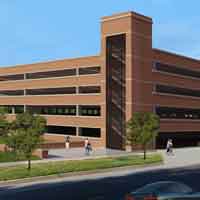 The new Parking Garage extension is open. The City of Webster Groves issued an occupation permit to the garage Tuesday afternoon. Students, faculty and staff can start parking on the second, third and fourth levels immediately.
The ground level will open up as soon as construction crews can finish some caulking and remove some materials temporarily stored in the that area.
Work crews also are finishing landscaping around the structure. In the near future, some sections of the garage may close temporarily to allow workers to complete other tasks, such as replacing the lights in the old section of the garage with brighter and more efficient fixtures that will provide better illumination. Those closures should not negatively impact the ability to find parking in the garage, due to the abundance of new spaces now available.
Work on the parking garage began in June of last year and was originally scheduled to last through this month. With the garage opening today, the project is ahead of schedule. The new structure will more than double the amount of parking currently in the garage and significantly increase the number of spaces on campus.
The physical work on the garage expansion started in June, 2016, but planning started several years earlier. This expansion was initially foreseen when the original garage was built more than fifteen years ago. It was designed to make it easy to remove walls and quickly snap new concrete slabs into place for an expansion.
When Webster University unveiled plans for Browning Hall, Interdisciplinary Science Building it also included this garage expansion, which was needed to meet the parking requirements of Webster Groves. The City Council also added a second requirement to the garage; Webster University had to add a left-turn lane in front of Emerson Library before the City would issue any building permits. Through a cooperative agreement, the city built the lane but the University funded the project. It opened in August, 2015.
The University also built a new substation so that the power consumption of Browning Hall would not overload the power grid serving the surrounding neighborhoods. That substation was built through a cooperative agreement with Ameren and went online last spring.
The final task to start the construction was to work with Nerinx High School. That school owned a small parking lot that was wedged between the existing garage and the new garage site. Working with the high school, Webster University was granted ownership of that small lot in exchange to granting Nerinx 107 spaces in the new garage. The Nerinx spots is in a separate area in what would be considered the "basement" of the garage, away from where Webster University students, faculty or staff will park.
tags:  home page, webster life, webster today,
News by Topic
Tag Categories
News by Topic
Tag Categories