Grand Opening for a Reimagined Sverdrup
Sep. 20, 2018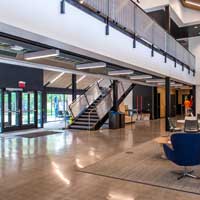 ST. LOUIS – The central core of Webster University's Sverdrup Complex has undergone a transformation from traditional classrooms into spaces that resemble Silicon Valley offices and state-of-the-art digital studios. In this newly redesigned area, students and faculty in the School of Communications collaborate on projects using the latest technology available that will further unlock their skills and imaginations, preparing them for the workspaces of the future.
A grand-opening ceremony and open house for the newly "reimagined" center building in the  Sverdrup Complex will be held at 3 p.m. Oct. 16. It is open to the public.
Register to attend at http://alumni.webster.edu/svernow.
Among the new features of the building are a Media Commons that includes a completely portable, reconfigurable television studio setup , a One-Button Studio to record instant video, a state-of-the-art Student Media Lab for print and radio production, a Design and Production Lab that supports the latest in animation and game design, and a Testing and Criticism Studio that lets students test their digital creations in real-world situations.
The space was designed to integrate theory and practice in both curriculum and faculty by offering more areas that encourage collaboration, access to emerging technologies, and spaces that emulate the modern work environment. The primary users are students, faculty and staff in the School of Communications, but the renovated areas are also being used by students and faculty from practically every school and college at Webster.
 "The reimagined Sverdrup Building was designed with the future in mind and to benefit all students and faculty at Webster," said Elizabeth (Beth) J. Stroble, president of Webster University. "The building's connection to the virtual world can easily be upgraded and will extend the building's many features to our international campuses, metro locations, and our community partners."
"The project will benefit students and faculty from many different majors and allow them to incorporate the latest communications technology into their respective fields of study," said Julian Z. Schuster, provost, chief operating officer and senior vice president at Webster University. "The multiple labs and workspaces emulate the headquarters of multi-media companies that have a track record of innovation and creative thinking, thus preparing Webster students for the workforce of tomorrow."
"Like contemporary communication agencies, production houses, and news media facilities, the new Sverdrup will feature open, flexible-use, collaborative workspaces, designed to support multimedia work, cross-disciplinary work, and collaboration," said Eric Rothenbuhler, dean of the School of Communications. "Everything in the space is interconnected, meaning that work in any one space can be replayed and worked on in any other space."
The renovation covers 16,600 square feet in the center building and the east and west connecting atriums. Besides the new labs and studios, a new classroom with state-of-the-art audio-visual technology also was added, along with a new conference room and numerous small "collaboration" spaces along the main first-floor corridor where students can study or work on group projects. These spaces, along with the lobbies and atria, include media screens, digital signage, and audio-visual installation, work tables, both soft and task seating, and magnetic and pin-able wall surfaces to further encourage collaboration while also giving access to web-based technology and information.
The University budgeted $5.7 million for the project and is on track to come under budget. The costs include construction, furnishings, technology, design and engineering fees.
The Sverdrup Complex originally opened in 1987 as three interconnected buildings. It served as the home of the George Herbert Walker School of Business & Technology until that school relocated to the East Academic Building in 2012. The School of Communications, which experienced tremendous growth, consolidated its faculty, staff and classes in the Complex.
For more information on the School of Communications or the Sverdrup Complex, visit http://www.webster.edu/communications/.
With its home campus in St. Louis, Missouri, USA, Webster University (www.webster.edu) comprises an action-oriented global network of faculty, staff, students and alumni who forge powerful bonds with each other and with their communities around the globe. Founded in 1915, Webster is a private non-profit university with nearly 14,000 students studying at campus locations in North America, Europe, Asia and Africa and in a robust learning environment online. The university is committed to ensuring high-quality learning experiences that transform students for global citizenship and individual excellence.
tags:  home page, president, provost, school of communications, webster today,
News by Topic
Tag Categories
News by Topic
Tag Categories