ISB Tower Crane Removal Delayed to Feb. 16 - 19
Feb. 8, 2017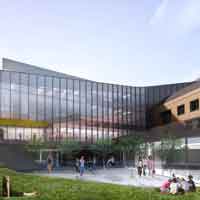 ST. LOUIS - The planned disassembly of the tower crane at the Interdisciplinary Science Building (ISB) construction site has been delayed for one week due to forecasts of high winds and rain this weekend. The work to take down the crane will start on Feb. 16 and end on Feb. 19.
Parking Lot K, which originally was scheduled to close this Thursday through Sunday, will instead close on Feb. 16 and reopen the evening of Feb. 19. The Priest Building, which was scheduled to be closed this weekend, will close next weekend instead.
Just like when the crane was first erected, numerous trucks will arrive on site to remove components of the tower crane. A smaller mobile crane also will need to be temporarily set up in Parking Lot K to assist with the disassembly of the tower crane. As a result, this will require all of Parking Lot K to be closed to prevent damage to automobiles or injury to pedestrians. The drive off of Big Bend that leads to Parking Lots K and J will remain open, and the contractor will provide a flagman at this drive to control the flow of traffic. 
Parking Lot K will be closed early in the morning on Feb. 16 and will not reopen until the evening of Sunday, Feb. 19. All automobiles owned by students, faculty and staff should be moved to another parking lot on campus by Feb. 16. The Priest House will need to be closed on Saturday, Feb. 18, and Sunday, Feb. 19, as some large pieces of the crane will be hoisted over the building.
The most current forecast from the National Weather Service says there will be steady winds of about 11 miles per hour on Thursday and Friday, but gusts of up to 28 miles per hour could occur Friday afternoon.
For more information about the ISB, or to learn more about the construction, visit www.webster.edu/construction.
tags:  college of fine arts, employee news, school of business and technology, webster life, webster today, ISB,
News by Topic
Tag Categories
News by Topic
Tag Categories