Around Webster: Qasem talk, Henning text, Cosic shows
Sep. 22, 2015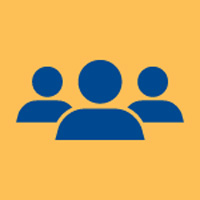 Recent professional accomplishments by Webster University community members include:
Henning Publishes Text on Ethics in Counseling
Stacy Henning, associate chair, Clinical Program and Extended Campuses, for the Counseling program in the College of Arts & Sciences, has published a new textbook, "Ethical Decision Making in the 21st Century."
As a former senior chair to the American Counseling Association's (ACA) Ethics Committee, Henning was asked by the publisher to collaborate with a former co-chair and former chair on the text, which is one of eight texts in a series coordinated to teach the eight core content areas of clinical counseling as tied to the ACA Ethical Code  (2015) and the CACREP standards.
In Webster University's MA in Counseling program, professional ethics is one of 17 required courses and one of eight content areas that is required education for licensure as a professional counselor and school counselor with all state counseling licensure boards. Henning teaches Professional Ethics in the program, regularly presents on the topic at conferences, and has written additional book chapters on ethics in other textbooks and manuscripts. 
Qasem on Impact of Saudi Arabia - Iran Rivalry
Webster Leiden academic director Islam Qasem delivered a lecture at the Sept. 12 "Night of Dictatorships," an annual event organized by ProDemos in the Hague. 
Qasem's lecture, "The Saudi Iranian rivalry and the future of dictatorship and violence in the Middle East," examined how this geopolitical rivalry affects political stability in the region. 
Qasem's areas of expertise as a political scientist and international relations expert include the domestic and foreign politics of Saudi Arabia, conflicts in the Middle East and the international politics of oil.
Cosic October Shows at Laumeier, Bruno David Gallery
School of Communications adjunct faculty member and video artist Zlatko Ćosić has two shows opening in October.
On Oct. 15 at Laumeier Sculpture Park will be a titled Harmony in 3 the result of a collaboration with choreographer Ashley McQueen to honor the labor that goes into the manicured landscape at Laumeier. The exhibition represents Laumeier's interest in representing a range of art forms in the Park, challenging traditional definitions of "sculpture."

The next day, Oct. 16, Cosic will be at Bruno David Gallery to show his new video South Slavic Requiem, which concludes a series of art projects related to the war in Yugoslavia but also opens up new territories to address current political and social issues in remembrance of the 20th anniversary of the end of the war. Cosic, a Yugoslavian-born, St. Louis-based artist, said South Slavic Requiem is "a tribute to people who died as a result of national, racial, religious and other types of discrimination."
tags:  academics, college of arts and sciences, employee news, faculty, school of communications, webster today, counseling, international relations,
News by Topic
Tag Categories
News by Topic
Tag Categories