Broeder, Stimpfl Named Interim Co-Deans for College of Arts and Sciences
Oct. 8, 2015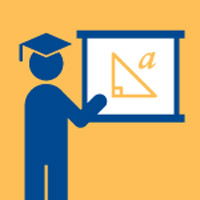 The Office of the Provost announced that faculty members Jenny Broeder and Joseph Stimpfl have been named interim co-deans for the College of Arts & Sciences.
Continuing a structural realignment created in 2013, Broeder will lead the College's Division of Professional Programs, while Stimpfl will lead the Division of Liberal Arts & Sciences.
"Both Jenny and Joe are natural fits to lead the College of Arts & Sciences during this interim period," said Julian Schuster, Webster's provost, senior vice president and chief operating officer. "Their respective experience in professional programs and liberal arts at Webster will serve the College well and ensure a smooth transition."
In this role, Broeder will oversee departments of Professional Counseling; Legal Studies; Nursing; and Nurse Anesthesia. An associate professor of Nursing and past chair of the Department of Nursing and coordinator of the MSN program, Broeder was named interim associate dean for the Division of Professional Programs in 2013. In that position, she has advanced new and existing accreditation processes for academic programs within the division.
Stimpfl's role will include oversight for the departments of Biological Sciences; Anthropology and Sociology; English; History, Politics, and International Relations; the Institute for Human Rights and Humanitarian Studies; International Languages and Cultures; Philosophy; Psychology; and Religious Studies. A professor and chair of Religious Studies, Stimpfl has also taught in Thailand and served as task force co-chair for the 2014-15 international site review of the Thailand campuses.
The appointments are effective immediately. 
tags:  academics, employee news, provost, webster today, college of arts and sciences,
News by Topic
Tag Categories
News by Topic
Tag Categories