Jensen, Palmer Named New Faculty Athletics Representatives
Sep. 24, 2015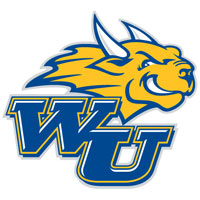 Scott Jensen and Julie (JP) Palmer have been appointed to serve as Faculty Athletics Representatives (FAR) for Webster University Athletics, President Elizabeth (Beth) J. Stroble and director of athletics Scott Kilgallon announced this week.
The position became available when Larry Baden stepped down after a decade of serving as the FAR. "Webster was fortunate to have Larry serve as FAR and we greatly appreciated his support of our coaches and student-athletes over the years," Kilgallon said.  
NCAA member institutions are required to have one FAR to involve a faculty viewpoint in the administration of intercollegiate athletics programs. While the NCAA requires only one FAR, Kilgallon likes the model from his previous conference appointing two FARs. "This model effectively serves to share FAR workload and involves more faculty from different academic disciplines as we continue to work toward integrating academia and athletics across campus." 
The search committee noted they were very fortunate to have a number of faculty apply for the positions, all of whom had great qualifications and enthusiasm to serve. As a result, an Athletics Advisory Committee will soon be formed as well to further support and integrate athletics and academia.
Kilgallon said the search committee was impressed with Jensen and Palmer's enthusiasm and appreciation for our student-athletes. "The Athletics department looks forward working with JP and Scott as we continue to emphasize the whole student-athlete and gain faculty perspective given the constantly changing landscape and issues facing NCAA Division III athletics."
About Webster's Newest Faculty Athletics Representatives 
Palmer is an associate professor in the Management Department of the George Herbert Walker School of Business & Technology, where she teaches human resource management and organizational behavior. She is the director of the Doctor of Management program and also serves on a number of doctoral student committees yearly. Palmer enjoys working one-on-one with students and enjoys working with student-athletes in her classes. 
She is also a successful competitive athlete. Her activities have included 18 years of triathlons and competing in the Ironman World Championships in Kona, Hawaii, in 2013. She is currently in training for Ironman #20 in October 2015.
Jensen is as director of the Forensics and Debate teams and a professor and program facilitator for Speech Communications studies. As director of the Speech and Debate teams, Jensen travels on many weekends with the teams for competitions. When he is home he greatly enjoys spending quality time with his family.
"I have tremendous respect for the commitment to academic excellence that is a mainstay of our athletic program at Webster. As someone who directs a program that extends the collegiate experience outside the classroom, I appreciate the unique challenges and opportunities of our athletes. I look forward to working with coaches and students to help foster those opportunities and provide support from a faculty perspective," Jensen said.

Jensen's passions include his family, teaching, baseball and the Chicago Cubs.
Keep up with all Webster University Athletics news by clicking on the "Athletics" category at the top of the newsroom or by visiting www.websterathletics.com. 
tags:  faculty, school of business and technology, school of communications, webster today, athletics,
News by Topic
Tag Categories
News by Topic
Tag Categories