Resources for 1st-Generation Students
Aug. 26, 2015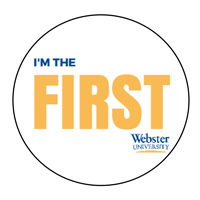 A group of staff (see list below) came together this summer to discuss some potential programs to better support first-generation students. At Webster, we are defining first-generation students as students whose parents have not graduated from a four-year college or university.
We would like to create a list of Webster faculty and staff at the Webster Groves campus who were themselves first-generation students. Our goal is to invite these faculty and staff to share their stories with our incoming first-generation students in hopes of providing inspiration and helpful resources to improve their experience and increase their graduation rate.
If you were a first-generation student and would be willing to be engaged in our outreach to first-generation students, please send an email to Ted Hoef at hoeftl@webster.edu.
We will send you one of our "I'm the First" buttons and a set of talking points. Please wear your "I'm the First" button during the first few weeks of the semester. The buttons serve as a conversation starter and help break the ice for students, staff and faculty searching to find things in common.
Planning group: Erin Bullerdieck, Corey Hawkins, Colette Cummings, Dana Parker, Shelley Wolfmeyer, Justin Barton, Sarah Tetley, Jen Stewart, Bethany Keller, Ted Hoef.
tags:  employee news, faculty, diversity and inclusion, webster today,
News by Topic
Tag Categories
News by Topic
Tag Categories