2016 GLA Applications Now Accepted
Jul. 27, 2015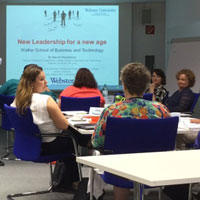 Applications are being accepted until Sept. 25, 2015, for the 2016 cohort of the Global Leadership Academy.
Launched during the 2011-12 academic year, the Global Leadership Academy is a Webster University employee leadership development program created to invest in employees and advance internal talent and leadership. GLA fellows work side by side as they explore leadership and learn the value of leading from wherever they are in the University.

Find the information for applying at the Global Leadership Academy site.
Past participants cite the GLA experience as a transformative one.
Stephanie Schroeder, faculty and chair, Biological Sciences, who participated in 2013, said:
"GLA truly opened the world for me. My program is only located at the St Louis campus, and our students aren't as able to travel abroad as other majors. I have a better understanding of the Webster community and how I fit in. It has helped me understand my own strengths and challenges as a leader, which I hope will make me a more effective leader in my department."
Robin Assner, faculty member in Art, Design and Art History who participated in 2015, said:
"The Global Leadership Academy is an immensely valuable experience. The dedicated time we get to spend together really allows for collaboration and relationship building. Spending a week in Vienna was a transformational experience because together we navigated a foreign place and bonded over the common experiential learning experience. We ask our students to become global citizens, and this time together in Vienna gave us a glimpse of what a global citizen might look like. By visiting an international campuses, we not only talk the talk, but we walk the walk of what we want a Webster student to gain by taking advantage of everything Webster has to offer."
Mike Fallon, a 2015 participant from the Ocala (Florida) Metro campus, said:
"Webster facilitates leadership development in a way that only a true global institution can. Our immersion experience in Vienna allowed us the opportunity to engage, learn, and develop ourselves while gaining new perspectives on higher education, and how Webster's strategic global philosophy impacts every team member at every level."
Applicants should keep in mind the schedule for cohort meetings:

Meeting One
Spring Break 2016
Monday, March 7 – Friday, March 11, 2016
Location: St. Louis
 
Meeting Two
Summer 2016
Sunday, June 12 – Friday, June 17, 2016
Location: Webster University Athens, Greece
Meeting Three
Fall Break 2016
Monday, Monday, October 17 – Friday October 21, 2016
Location: St. Louis with side trips to nearby U.S. Extended Campuses TBA
Look for more information on upcoming information sessions in the weeks ahead.
tags:  employee news, global, president, webster life, webster today, global leadership academy,
News by Topic
Tag Categories
News by Topic
Tag Categories