Remembering Willie Akins, Longtime Jazz Faculty Member
Oct. 5, 2015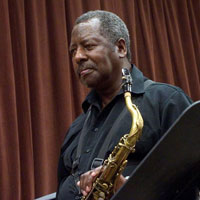 The Department of Music sadly shares news of the passing of Willie Akins, longtime adjunct professor of jazz, on Oct. 2. He is survived by his wife, Sandy, seven children and many grandchildren.

"Willie was a major figure on the St. Louis jazz scene since the late 1960's," said professor of Music Paul DeMarinis. "Through his bands, he has mentored countless young rhythm section players over the years; many of these musicians have gone onto major careers in jazz. He represented consummate artistry within his idiom and will be deeply missed. He was a vital presence on the jazz faculty at Webster for the last fifteen years or so; his instruction and example gave our students the clearest picture of a musical value system that thrived in jazz clubs over the last five decades but now is becoming increasing rare. He always demonstrated the highest degree of musical integrity."

"From the outpouring of comments on social media, Willie clearly motivated and mentored in a mighty way," noted Jeffrey Carter, chair of the Department of Music. "We were so fortunate that Willie shared his prodigious experience with so many Webster musicians over the last four generations of students."

Funeral arrangements are posted in the comprehensive obituary published in the St. Louis Post-Dispatch.
Tribute Concert Oct. 12
The Department of Music celebrates Akins' legacy in a jazz concert on Monday, Oct. 12, in a performance featuring the Ben Wheeler Quartet. All the members of this group are former Willie Akins students. The concert is at 8 p.m. in Winifred Moore Auditorium.
tags:  college of fine arts, department of music, employee news, webster today,
News by Topic
Tag Categories
News by Topic
Tag Categories