In the News: 11 Best Colleges, Stroble on social media, Teeter in Post, Vet Center
Oct. 23, 2015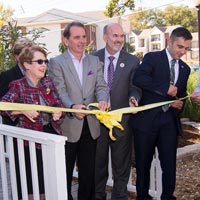 Recent news media coverage featuring Webster University community members includes:
Webster Among '11 Best Colleges You Need to Know'
Productivity and lifestyle blog Lifehack placed Webster University at the top of a list of "11 Best Colleges in America You Need To Know." The list singled out 11 schools "that stand out because they provide an educational experience that is tailored to the needs of students who are seeking more than just a standard 4-year degree. Each college in this list stands out because it has something unique and original to offer."
The list, which calls Webster an "ideal choice for students who want the experience of studying abroad while maintaining a continuity in their education," also calls out Webster's Global Citizenship Program. Other schools noted for unique attributes on the list include Vanderbilt University, American University and Green Mountain College.
Stroble on Use of Social Media in ACE Higher Ed Today
Webster President Elizabeth (Beth) J. Stroble penned a column for Higher Education Today, the blog for the American Council on Education (ACE), discussing the use of social media in official capacities by leaders in higher education. Stroble, who is known as an early adopter of social media among higher ed presidents, traces her own interest in the platform to her own research into early email's effect on student writers, as well as to the visit by Twitter co-founder Jack Dorsey at Webster in 2009.
"As social media evolves, I increasingly look for ways to use these channels for the purposes Zaiontz identified: community leadership, personal sharing and engaging with diverse accounts."
Teeter, Dai, Wylie, Wandall in Post-Dispatch for Variety Children's Theatre
Lara Teeter, professor and head of the Musical Theatre program in Webster's Conservatory of Theatre Arts, is profiled in a St. Louis Post-Dispatch story about the Variety Children's Theatre musicals he directs. The story also references Webster faculty members Dunsi Dai, John Wylie and Rusty Wandall, who each contribute their expertise to the production, which supports the charity for children with physical and developmental disabilities:
"Teeter speaks with the confidence born of previous Variety Children's Theatre musicals. He directed and choreographed all of them. And from the first, he held to high standards worthy of sellout shows.

"The first indication of those standards: Lara Teeter."
The show performs this weekend at Touhill Performing Arts Center.
Student Vet Center Opening on KMOV-TV
The opening of the new Student Veterans Center on the home campus in Webster Groves was featured on CBS affiliate KMOV's news on multiple segments that day. A $9,000 grant from Home Depot and secured by Webster University's Student Veterans Organization helped fund materials to remodel an existing space on the home campus into a Veterans Center
Representatives from the U.S. Department of Veterans Affairs (VA) were there for the opening and to speak to veteran students. Webster University is one of 10 universities in the country being visited by VA officials through the "Vet Success on Campus" (VSOC) program.
See photos from the ribbon-cutting event in this Facebook album. 
Pictured above: President Beth Stroble, Provost Julian Schuster, Military Affairs head Mike Callan and Student Vets Organization President Tom Palozola open the center.
tags:  academics, college of fine arts, faculty, in the news, military, conservatory of theatre arts, webster today,
News by Topic
Tag Categories
News by Topic
Tag Categories